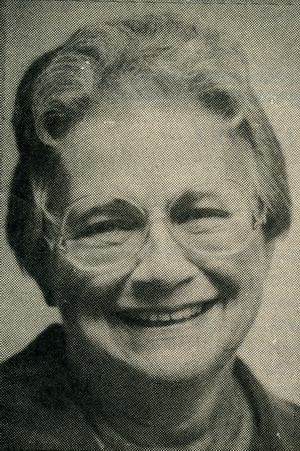 Jean Elizabeth Shank, 87, of Carlisle, passed away peacefully at Thornwald Home on Sunday, February 17, 2013 with her loving family by her side. She was born on May 1, 1925, one of three children of the late Paul and Laura (Cornman) Monismith in Carlisle,
On June 10, 1943, Jean married Evers Shank at the First Evangelical Church. The ceremony was conducted by Rev. Miller. Following a brief honeymoon Jean and Evers traveled by train to California where Evers was stationed in World War II. Jean returned to Carlisle for a short but painful period when Evers served in the war effort, and, following the war, Evers also returned to Carlisle, where they spent sixty- two years of marriage before Evers passed away in 2005. During their many years of marriage Jean and Evers were animal lovers, and Jean was seldom without a pet cat. Recently, Missy was her most loved cat friend. A highlight of Jean and Evers's relationship was the ability to dance together, and Jean was an exceptional jitterbugger as she and Evers enjoyed the big band sounds of Tommy Dorsey and Glenn Miller. She graduated from Carlisle High School in 1943, where she was involved in student government, choir and basketball. Jean worked at Bixler Hardware store from 1943-1945, and at Penney's Department store from 1946-1952. Finally, she worked at Cumberland Valley Savings and Loan from 1962-1982.
Over the years Jean was involved in many activities. She was a Carlisle Hospital volunteer for 20 years and served as treasurer of the hospital auxiliary. She was a Dolphin visitor at the former Cumberland County Nursing Home and Hospice volunteer. As a longtime member of Grace United Methodist Church, Carlisle, she was active in the United Methodist Women and served as treasurer of her Sunday School Class. She was a volunteer for the Leukemia Society, Cancer Society, March of Dimes, and Samaritan Fellowship. For her children she served as Cub Scout volunteer, Girl Scout leader, and Stevens School room mother. In 1988, Jean was named The Sentinel Volunteer of the Year.
Jean is survived by daughter, Beth A. Shank and her partner, Terry Wise, of Frankford, DE, a son Allen Shank and wife, Ellen (Dete) of Carlisle, granddaughter, Jenna Shank of Portland, ME, brother-in-law, William E. Shank of Carlisle, sister-in-law, Doris Monismith of Carlisle and brother-in-law, William Riggs and wife, Wendy of Mechanicsburg. Jean was predeceased by her brother, Paul Monismith and her sister, Doris Getz.
Funeral services will take place at Ewing Brothers Funeral Home, 630 S. Hanover St., Carlisle on Saturday, February 23, 2013. Visitation will begin at 9:00 a.m. followed by a service at 10:00 a.m. Rev. Jennifer McKenna, a dear family friend will officiate. Burial will be in the Westminster Memorial Gardens, Carlisle. The family wishes to acknowledge the tender and compassionate care given to Jean during her recent years at Country Meadows in Mechanicsburg and Thornwald Home in Carlisle. We could not have asked for more professional or deeply committed nurses, aides, and administrators than we experienced at these two wonderful care facilities. Memorial contributions may be sent to Grace United Methodist Church, Carlisle or The Carlisle Theater.
Click here to send a condolence

Dear Beth, Terry, Allen, and Ellen,
May all your wonderful memories of Jean sustain you now and thru the years and give you comfort knowing she is at peace. Beth, I've lost track of your new mailing address and ph #. You can reach me at 252-659-2933 or email me at kathleen.heckler@ncfbins.com
Let's get back in touch.

With our sympathy, Kath & Tom Heckler
Schorppie (Kathy Heckler)
_______________

My thoughts and prayers are with the family at this difficult time. I knew your mother and father as very nice and wonderful people.

Nancy Brymesser Hickey
_______________

Dear Allen, Ellen, Beth, and Terry
I would like to give my condolences in the passing of your mother. She was a lovely lady, so kind and thoughtful. Im glad I had the opportunity to know her while growing up on Penn Street. She was a wonderful mother who raised two terrific children. May she be at peace with God.

Jan Sheaffer
_______________

Thinking of all of you and asking for God's strength and comfort for you.
We requested a Mass for her.

Mary Stringfellow and Marty Peterson
_______________

Always in my heart. What a wonderful resident Jean was. Always a big smile. I am so glad I got to know the whole family. She is now at peace and with her beloved husband. God Bless all of you.

Your Friend, Mary Lou
(Mary Lou Ercole)
_______________

Dear Allen, Ellen, Beth, and Terry
I have wonderful memories having known the 'Shanks' while living on Penn Street. Your mother was a wonderful person with a big heart! My sincere heartfelt thoughts of all of you for your loss.

Denny Beecher
_______________

Please know that you all are in my thoughts and prayers during this difficult time.

Lisa Prescott
_______________

Our deepest condolances and prayers to Allen, Ellen, Beth and the entire Shank family. Your mother lived a wonderful, productive life and raised loving children who will continue her legacy!

Pam & Marv Gordon
_______________

Dear Beth,Terry,Allen and Ellen, My heartfelt sympathy to your family.
May God support you and give you peace and comfort.

Wanda Cline Gehr
_______________

I loved Jean and Evers! they were my friends at Grace UM church.
I miss them both. I want to thank the Family, for this wonderful Obituary for Jean Elizabeth Shank.

Sadly,
Shelva Spitz Walker
_______________

She sounds like quite a lady! I wish I had known her!

Diana Martlew
_______________

Thanksgiving and Jean's cranberry
salad-just one example how she cared for her family and others, and will be fondly remembered.

Elizabeth and George Dete
_______________

Dear Allen, Ellen, Jenna, Beth and Terry,
My thoughts and prayers are with you today. Losing a second parent is painful, but as our hearts grieve we cling to the wonderful memories. The obituary was very thoughtful and honoring to your mother. I think often of the happy holiday and birthday gatherings. So many have passed on, but we are blessed to have shared those celebrations of love and family. You are in my thoughts. I would love to have a cousin reunion.

Love and Prayers,
Sara
(Sara Dillinger)
_______________



Your message of condolence will appear here.