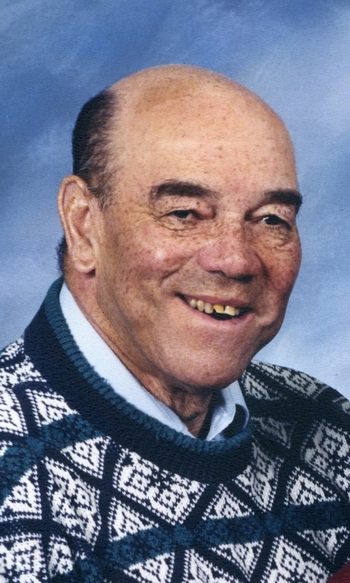 Joel King Miller, aka Joe, 77, of Carlisle, died Thursday, January 17, 2013 at Carlisle Regional Medical Center after a long and valiant struggle with emphysema and congestive heart failure. Born June 16, 1935, he was the son of the late Mary L. (Donley) and Edward Miller of Carlisle.
Joel attended Bermudian Springs High School and earned his G.E.D. from Carlisle High School. Joel was retired from Dickinson College, having worked 17 years in the Projects Department. He also worked at Hunt Corporation, Frog & Switch Manufacturing, Piezo, Carlisle Tire & Rubber and several other facilities. He also worked as a driver for Your Chauffeur Connection of Carlisle. He was a proud member of the U.S. Marine Corps and U.S. Air Force. During his USMC service, he met his wife, Hasue, while stationed in Japan. They married on January 12, 1966.
Joel loved sports, having played various sports in high school and beyond and then attending such sporting events for over 30 years. One could always find Joel in the bleachers at nearly every Carlisle High School sporting event, especially football and basketball, and attended many team practices. He traveled all over the region with his "Hoosier" crew buddies Bob Howard, Mac Greist, and Lynn Heishman, attending all types of athletic events. Joel was also there at nearly all of his daughters' athletic events, enthusiastically cheering them on or providing instruction. For several years, he was one of the linesmen for freshmen and junior varsity football games. He was also active in the Carlisle Midget Football program. He played for the minor league football team the Cumberland Colts. He played on the Bethel Assembly of God Church softball team.
Joel was an avid runner and walker. One could often find him on Dickinson College's Biddle Field track and Kline Center and the track around the Carlisle Barracks Golf Course. He also enjoyed driving, especially on Sundays, watching sports on TV, reading the newspaper and the Bible, feeding the squirrels on the Carlisle High School campus and spending too much on gifts for his children and grandchildren. He loved Penn State and Notre Dame football and the movie "Rudy." He loved wearing ball caps.
Joel attended Bethel Assembly of God Church in Carlisle and, most recently, he became a member of St. Patrick Roman Catholic Church.
In addition to his wife of 47 years, Joel is survived by two daughters; Lori Peters of Carlisle (and her husband, Kevin) and Joann Penrod of Fayetteville, NC, six grandchildren; Carliana, Cailin, Mary, Riana, David and Gianna Peters, all of Carlisle, cousins; Nancy & Guy Gsell of Carlisle, Becky Mitchell of Carlisle, Marlin & Patsy Hamilton of Newville, Phyllis Group of Gardners and several extended family members. He was preceded in death by two unborn grandchildren and several relatives.
A Funeral Mass will be held on Tuesday, January 22, 2013, at 11:00 a.m. in St. Patrick Catholic Church, 85 Marsh Drive, Carlisle. Rev. William C. Forrey will be the celebrant. A visitation will be held at the church from 10 a.m. until time of mass and a reception will immediately follow the mass in the church Activity Center. Private interment will be in the Old Carlisle Cemetery. Ewing Brothers Funeral Home is in charge of arrangements.
In lieu of flowers, the family asks that donations be made in Joel's memory to support the care of retired priests and religious or the vocation formation of priests and religious. Donations should be sent to the Diocese of Harrisburg, 4800 Union Deposit Rd, Harrisburg PA, 17111-3710.
Click here to send a condolence

My Heart Breaks for his Family. He was part of our extended family and Cheered for all my sons at there various sports starting with Midget Football. He will be Greatly Missed by All. Carlisle Sports will also Miss Him. He was a Great Man and he Loved His Wife, Children, and Grandchildren with All His Heart. May He Rest in Peace. He is with Matt!

Karen Slusser
_______________

My heart and prayers are with you during this most difficult time. May God grant you His consolation.

Mary Stringfellow
_____________

Uncle Joe you will be greatly missed! My heart and prayers go out to your wife and daughters! I Love You! RIP!

Gerard Slusser
_____________

My heart goes out to the family of one of the nicest men I have ever met! Playing football at Carlisle 84, 85 & 86 joe was always part of practices and during the games a well oiled piece of the chain gang. He always had something nice to say! At half time of every game I would always ask joe "see anything we should know about". He always had something to say! He was a true blessing to anyone who had crossed paths with my friend "Joe". You will be missed but we will see each other again someday!

Kerry Vincent
______________

So sorry to hear about Joel. He was a wonderful man. We enjoyed talking with him and seeing his enthusiasm. He is now in a sweeter place of peace and joy.

The McGranahans
_____________

Prayers to your family. May you find peace in knowing he is with God.

Sheila Hursen Miller
_____________

Will miss seeing you at track practice,

Tommie Palmer
_____________

What a wonderful man. I had the pleasure of knowing and working with Joe at Dickinson College. I never remember seeing Joe without a smile on his face. He taught me to always try to be happy and positive. I would continue to see Joe in later years. I knew his health was failing. But, he never lost his smile. You will be in my prayers.
Remember the smiles.
Cherish the moments.
Find comfort in memories

Dolly Rice Kern
_____________

The world lost one of its good guys this week. Our paths crossed numerous times at the War College Trail and Dickinson's Biddle Field during our daily workouts over the years. Joe always had a smile on his face and some stories to share with me. Enjoyed talking to him about our families and sports. Joe will be greatly missed by me and so many, many other people. Condolences to his wife and family.

Hap Miller
_____________

Sending your family my thoughts and prayers.

Sandra Snyder (cousin)
_____________

Please know you are in the thoughts of many. Sending hugs!

Joni Neidigh
_____________

What a likeable guy.Always laughing We would always have a good time with Joel at the Bubbletown games. Abba-Dabba Joel will certainly be missed. God Bless his entire family.

Paul Clark
_____________

Our condolence and prayers go to the family.Joe a great Carlisle sports fan. We will miss the many talks about Carlisle sports and we will miss seeing you at the sporting events.

Skip and Mariann Petty
_______________

I had the pleasure of meeting Joe for the first time during my many runs at the War College trail around the golf course. He was such a personable guy ...always was upbeat and cordial!! I'm glad that I had the pleasure to meet him. May he truly rest in peace in the prescence of God.

Denny Lebo
_______________

You are in our thoughts and prayers.

The McGinnis Family
_______________

Joe and his family were our neighbors for many years and he will certainly be missed. He always had a smile and stopped to talk whenever we met. I wish to express our sincere sympathy to Terri, Lori and Joann and their families on their loss. You are in our prayers.

Glenda Wagner & family
_______________

I knew Joe first as a colleague at Dickinson where he would come into admissions with his crew and move packets for the mail (especially those all-important acceptance letters. No matter the task he was always upbeat and wore a friendly smile. He also was a good boss to his crew. Later, when he retired, we would see each other running, often at Carlisle HS, and he would always encourage me to keep at it. My thoughts and prayers are with you, Lori, and all your family.

Rusty Shunk
_______________



Your message of condolence will appear here.