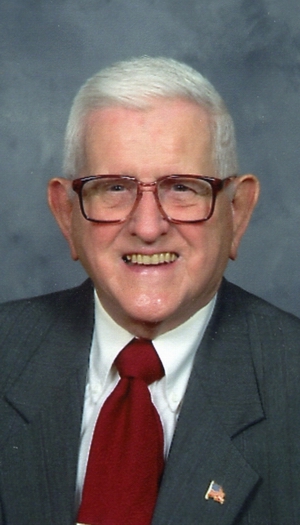 Jack L. Lesher, Sr., 92, of Carlisle, passed away on Tuesday, January 8, 2013, at the Chapel Pointe Health Center, Carlisle. He was born on September 14, 1920, in Chambersburg and was the son of the late Thaddeus and Agnes (Taylor) Lesher. He was the widower of the love of his life, Margaret (Farriday) Lesher, who passed away in 1971.

Jack was a 1938 graduate of Carlisle High School. He loved playing sports and was nicknamed "Flash" by his basketball team. He enjoyed playing baseball, was a little league coach and a fan of the NY Yankees. Jack was a US Army veteran of WWII. He was a 1st Lieutenant in the 103rd Infantry Division and was awarded a Purple Heart and Bronze Star. He retired from the US Postal Service in 1976 after working as a Rural Route Carrier in Mt. Holly and Boiling Springs for 33 years. He was an active member of Grace United Methodist Church, Carlisle for many years. In addition to his church life, he enjoyed spending time at his cabin at Laurel Lake with his family and friends.

Jack is survived by his daughter, Cathy Herncane and her husband, Robert of Boiling Springs; son, Dr. Jack Lesher, Jr. and his wife, Catherine of Augusta, GA; granddaughter, Kelly Redcay and her husband, Craig of Mt. Laurel, NJ; great-grandson, Craig Lee Redcay, Jr. and several nieces and nephews. He was preceded in death by a brother, Donald Lesher and a sister, Dorothy Seiler. Jack will forever be remembered for his sweet personality, constant smile, love for his family, and enthusiasm for sports.

Funeral services will be held on Saturday, January 12, 2013, at 10:00 a.m. in the Ewing Brothers Funeral Home, 630 S. Hanover St., Carlisle. Rev. Walt Frankenberry will officiate. Burial will follow in Westminster Cemetery, Carlisle, with military honors provided by Cumberland County Honor Guard. A viewing will be from 9:00 a.m. until time of services at the funeral home. Memorial contributions may be made to Chapel Pointe, 770 S. Hanover St., Carlisle, PA 17013. The family would like to express their heartfelt gratitude for the care, kindness and friendship their staff gave to Jack during his time there.
Click here to send a condolence


I am so sorry for your loss. Although I never met Jack, I know how much he was loved and respected by all of you. It hurts to lose a parent and I am praying for you to find comfort in knowing he is with the Lord.

Judy "Ma"Knight
_______________

Dr. Lesher:
May your memories with your Dad comfort you in the days ahead.
Your family is in my prayers.

Dottie Zielinski (DZ)
________________

Cathy, we will miss your dad. He was such a special man, and we enjoyed knowing you and your family too.

Joy Musser
_______________

Dear Kathy and Jack ~
May God's loving arms embrace you during this difficult time.
Your dad (and mom) were such wonderful friends through the years.
I will always treasure the days at Laurel. I am guessing there will be a "beach party" tonight in heaven with most of the old gang!!
Love Lisa

Lisa Prescott
_______________

Keeping you all in my thoughts and prayers.

Mike Berk
_______________

Jack and Peggy ... Bob and Gladdy ... good times!

Stu Einstein
_______________


Your message of condolence will appear here.