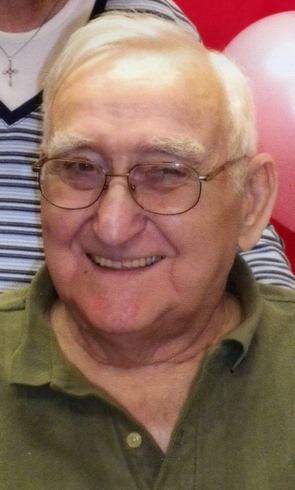 Junior L. "Pete" Benson, 90, of Carlisle, passed away Saturday, December 8, 2012, at Church of God Home, Carlisle. He was born on Sunday, August 13, 1922, in Millerstown, a son of the late Alonza W. and Blanche M. (Metherell) Benson and was the widower of Helen M. (Scott) Benson, who died February 23, 2012.
Junior was born and raised on a farm in Perry County. After moving to Carlisle, he began working at the former Carlisle Tire & Rubber Co. and retired from Carlisle Syntec, Inc., after many years of service. He was a life member of the Loyal Order of Moose, Newport.
He is survived by three sons; Robert Benson of Peyton, CO, James Benson and his wife, Linda of Newville, Lee Benson and his wife, Mary of Harrisburg, three daughters; Debbie Montine of York Haven, Diane Blaine and her husband, James of New Bloomfield and Hazel Bouder of Willow Hille, one brother, David Benson of Newport, one sister, Myrle Byers Cooper, a half-brother, Wayne Benson, five half-sisters; Mae Jones, Jeanne Brown, Minnie Dietz, Jennie Howell and Frances Milligan, eight grandchildren, five step-grandchildren, two great-grandchildren, five step great-grandchildren and several nieces and nephews. Junior was preceded in death by his step-mother, Catherine E. Benson, a brother, Lenus Benson, two sisters; Mary and Ruth and a half-brother, Paul Benson.
Funeral services will be held on Wednesday, December 12, 2012, at 2 p.m. in the Ewing Brothers Funeral Home, 630 S. Hanover St., Carlisle, with Chaplain Bradley V. Moore officiating. Burial will be in Cumberland Valley Memorial Gardens, Carlisle. A viewing will be held Wednesday from 1 p.m. until time of services at the funeral home.
Click here to send a condolence

Your message of condolence will appear here.