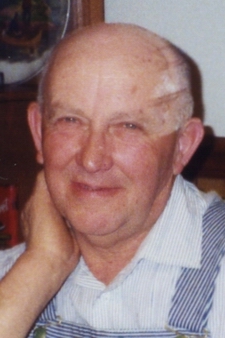 Ralph L. "Sonny" Foster, Jr., 78, of Carlisle, passed away on Sunday, November 25, 2012, at home with family by his side. He was born on Wednesday, January 31, 1934, in Upper Frankford Twp., a son of the late Ralph L. Foster, Sr. and Bertha A. (Miller) Foster. He was married to the late Evelyn R. (Miller) Foster, who died July 9, 1998.
Sonny was a longtime farmer in Cumberland County. He enjoyed hunting and butchering. He attended Bloserville God's Missionary Church.
He is survived by one son, Philip G. Foster (and wife, Jamie) of Carlisle, one brother, James E. Foster of Carlisle, two sisters; Dorothy Kessler and Shirley Deihl, both of Carlisle and several nieces and nephews. He was preceded in death by one brother, Stephen Foster and one sister, Charlotte Foster.
Funeral services will be held on Friday, November 30, 2012, at 10:30 a.m. in the Ewing Brothers Funeral Home, 630 S. Hanover St., Carlisle, with Pastor Ken Gordon officiating. Burial will be in Opossum Hill Union Church Cemetery, Carlisle. A viewing will be held on Friday from 9:30 a.m. until time of services at the funeral home. Memorial contributions may be made to his church, 10 Baughman Dr., Newville, PA 17241.
Click here to send a condolence

My deepest sympathy to all of the family.
May God's love guide threw this time of sorrow.
We love you Phil and Jamie.

Aaron Perry and Bobette LaPorte
_______________

We are so sorry to hear of Sonny's passing.
May you cherish the memories and God wrap his arms
a little tighter at this difficult time.

Carolyn Orris/Roy& David Shopp
_______________


Your message of condolence will appear here.