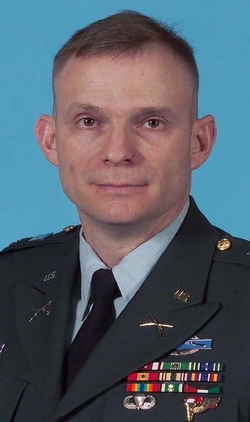 COL Jerry Cashion, US Army, age 49, of Carlisle, died on Friday, November 2, 2012, at his home. He was born May 19, 1963, in Lewisburg, TN, the son of Mary (Wright) Cashion of Carlisle and the late Grady Jerrel Cashion.
Jerry was a 1981 graduate of Cornersville High School, TN, received his Bachelor of Science degree in 1986 from Tennessee Tech and earned a Master's degree in Military Strategic Studies at the United States Army War College, Carlisle. COL Cashion was a veteran of the Persian Gulf War and Operation Iraqi Freedom. He was in his 27th year of active US Army service and was currently on staff as a G-5 at the United States Army War College, Carlisle. Jerry was a fitness instructor at the Carlisle YMCA and he was a member of St. Paul Evangelical Lutheran Church, Carlisle.
In addition to his mother, he is survived by his loving and devoted wife of 26 years, Brenda Katharine (Dunning) Cashion, one daughter, Kelly Anne Cashion of Dayton, OH and one son, Clayton Jerrel Cashion of Carlisle and currently a student at Penn State.
A memorial service will be held on Friday, November 9, 2012, at 11 a.m. in St. Paul Evangelical Lutheran Church, 201 West Louther St., Carlisle, with Rev. Timothy W. Sadler and Rev. Carol J. Bowman officiating. Immediately following the service, a time of visitation and fellowship will be held in the church social hall. Interment and full military honors for COL Cashion will be held at Arlington National Cemetery at a later date. Ewing Brothers Funeral Home, Carlisle, is assisting the family with arrangements. In lieu of flowers, the family kindly requests memorial contributions to St. Paul Evangelical Lutheran Church or Hospice of Central PA, 1320 Linglestown Rd., Harrisburg, PA 17110 or American Cancer Society – Capital Area Unit, 2 Lemoyne Dr., Ste. 101, Lemoyne, PA 17043.
Click here to send a condolence

Kathy, Mary and family. We are so very sorry about the passing of Jerry. We are thankful for the time that we had the pleasure to know and love him. We are so proud of his service to our country and his dedication to his family and friends. Our thoughts and prayers are with you all during this very difficult time. The folks of Cornersville will greatly miss him, especially the Class of 1981.

Scotty, Nona, Shelby & Sydney Brock
_______________


What an amazing man....he will not be forgotten. He has changed so many people with his positive attitude and amazing courage. Hooah Jerry!

Tina Salomone
_______________

I offer my deepest sympathy to the family of Col Jerry Cashion. I also want to thank Col Cashion and his family for their sacrifice during his service to our great nation.

I want to make you aware of a service that is available to your family, if you desire, during the services. The Patriot Guard Riders is a volunteer organization of people who will assist in escorts to services and establishing a flag line at the service. We are made up of soldiers, veterans and patriotic citizens who proudly and quietly honor fallen heroes such as Col Cashion. If you are interested in this free service you may request it at patriotguard.org or pgrpa.org or you may contact me at douglas.lehman@dla.mil and I will assist you in the details.

Doug Lehman
_____________

Dear Kathie and Family,
Please accept our heartfelt condolences for your loss. I know there is little we can say to console you during this difficult time but I wanted you to know that we share in your grief of Jerrys passing and that your entire family is in our thoughts and prayers.
I considered Jerry the finest of officers. You should know that he made a lasting and positive impact on me and a huge number of other officers and men with whom he served and also the students that he instructed. I also want you to know of my admiration for your courage and perseverance throughout Jerrys struggle with this awful affliction. Your dedication and positive attitude was an inspiration to us all. I already miss my friend and colleague.
My God help you through this difficult time.

Ed and Mary Filiberti
_____________

Please accept my sincerest condolences for your loss. I was saddened to learn of Jerry's passing and will always remember him from our days attending classes at Carlisle. He was great classmate and colleague. He will definitely be missed by those who had the privilege to know him.

Ron Long, COL, USA (ret)
_____________

NO WORDS CAN EXPRESS THE SYMPATHY TO YALL. JERRY WAS A COUSIN, FRIEND, BROTHER. MAY GOD WRAP HIS ARMS AROUND YOU ALL AT THIS TIME. I CAN JUST SEE JERRY AND UNCLE JERREL FIRING UP THE GRILL, LOVE THE BOTH GOD BLESS

BARRY & CHRISTY LEE & FAMILY
_____________

Mary,
I am so sorry. My thoughts and prayers are with you and your family.

Elizabeth Webster
_______________

Elmer and I send you our sincerest condolences related to the passing of Jerry. Although we only knew him for a short time period, he is thought to have the highest regard in our memories. We are thankful for the opportunity to have met him, shared time with him and his knowledgable instruction to Elmer. He is going to be greatly missed. God Bless you all, and we ask for God's peace and comfort for you during this time.

Col Elmer and Norricia Speights
_______________

Dear Kathy and family,

My sincere condolences and sadness to your family at this difficult time.

Sincerely, Rita Schlansky
_____________

Jerry will be missed. I pray for him and all who have passed on and their surviving families. We served together at DMI, USMA. Where I was the computer-information management officer. All remain in my prayers+ GOD BLESS+ my email is userjac8635@aim.com

j.golden
_______________

I was a classmate of Jerry's in the early 70's in Marshall County. We all have nothing but good memories of him. So very sorry.

Phillip O. Hamilton
_____________

Mary and family
We are very sorry for your loss. We know all of you have been through so much and Jerry is not suffering anymore. He will be greatly missed.
Our thoughts and prayers will be with all of you during this time.

Beverly (Braden) Sudberry and family
_____________

It was with deep regret to hear that an old friend of mine had passed away. Some of my fondest memories of my youth included him. My thoughts and prayers are with all of you.

John Dyer, Cornersville, TN
_____________

I worked at the Y a couple of years back and knew Jerry from there. I am so sorry for your loss. Such a great guy.

Alan Comerford
_____________

My name is Nicholas Utter and I am from Cornersville, TN Class of 1990. I had the privilege of having then Capt. Cashion as my Company Commander at C/3/327th. He is one of the finest officers I ever had the privilege of serving under, and one of the best men I ever knew from those days. I had always hoped to meet him again in Cornersville once he retired. My deepest condolences for your loss. Lt. Stout was our XO at the time (Jerry called him "Stump")and I lost touch with both when I left for Korea. They were close to each other at the time. I held them both in the highest regard.

Nicholas (Nick) Utter
_______________

I only knew Jerry for a very short time while a student of his at the War College, but the care he showed for his students, his comrades, and most importantly his Family was remarkable. I am deeply saddened by his loss and my deepest sympathies go out to his wonderful Family. May God give them peace in this difficult time.

Ian Falk
_______________

Please accept my condolences for the death of Jerry. I was his student at Army War College, Class of 2010. He was a good friend and hardworking teacher and mentor for me. May he rest in peace.

COL VLADIMIR AVDIAJ, ALBANIA
_____________

Kathy-
I am so sorry to hear Jerry died. He meant so much to me as a mentor and friend, not just a boss. Please send me your contact information at lcrlsmith@aol.com...I have more to say and I just want to reach out to you....

Laura and Kelly Updegraff
_____________

Rest in Peace brother.

Ben Duiker
_______________

Kathy, I am deeply saddened to learn of Jerry's passing. Jerry was not just an outstanding soldier he was more importantly an exceptional person. I think Jerry was the most unselfish person I have ever known. Rest in Peace my friend.

Paul McCann
_______________

Served with Col. Cashion in The Old Guard. At the time, he was 2LT Cashion and I was a young Sergeant. In my 23 years in the Army, Col. Cashion was as fine a soldier and nice a man as I had the pleasure of serving with.

MSG (Ret) Paul J. Donnelly
_______________


Your message of condolence will appear here.