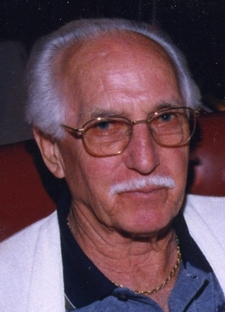 Dale W. Mentzer, 95, of Newville, passed away on Thursday, October 25, 2012, at his home. He was born on Tuesday, June 26, 1917, in Newville, a son of the late Bruce E. and Bertha (Souders) Mentzer and was the widow of Evelyn U. (Heckman) Mentzer, who died April 3, 2009.
Dale was a US Army veteran of WWII. He retired from the US Army War College, Carlisle, after many years of service as a carpenter. He was a member Newville First Church of God. Dale was also a member of both Newville V.F.W. and American Legion Posts and the Enola Sportsman Club, Carlisle Elks Lodge, Carlisle Eagles and the Carlisle White Circle Club.
He is survived by one son, Curtis J. Shearer, Jr. (and wife, Kathy) of Clayton, NJ, one daughter, Bonnie R. Wilt of Newville, one sister, Bernita Morrison of Newville, six grandchildren; Keith and Ben Lupfer, Staci Mentzer, Crystal Seiders, Dawn Stamper and Curtis Shearer, III, 13 great-grandchildren and several nieces and nephews. Dale was preceded in death by one brother; John Mentzer.
Funeral services will be held on Tuesday, October 30, 2012, at 11 a.m. in the Ewing Brothers Funeral Home, 630 S. Hanover St., Carlisle, with Pastor Wayne A. Good officiating. Burial with military honors by Cumberland County Honor Guard will be in Prospect Hill Cemetery, Newville. A viewing will be on Tuesday from 10 a.m. until time of services at the funeral home.
Click here to send a condolence
Dale and Evelyn were very special people, not only as a cousin of Evelyn's but as good friends. We spent many good times with them when they were in Florida, and being with them on Thanksgiving was a tradition. They are missed!

Shirley and Ed Heckman
_______________
Bonnie Wilt and Cris Seiders,
So sorry to hear of your lose.I will keep you and your family in my prayers. Cris...you no where to find me if there is any thing I can do to help.

Brenda Engle
_______________
Dale - I was so lucky to have you and Dale and Evelyn in my young life with Tom DeWalt, step-father, and my mother, then Betty DeWalt, but most recently, Betty Johnson, who passed away on 10/14/12, always spoiled me, and I loved it!!! Mom always wondered where you were and always loved you both. Now I know that you Dale, Evelyn, Tom, and my Mom are having a Ginger Brandy, singing Old-Time songs, dancing, and just loving your time together. We love you all and save a space for the rest of us.

Maxine Crasnick DeWalt Martens Johnson
_______________
Your message of condolence will appear here.