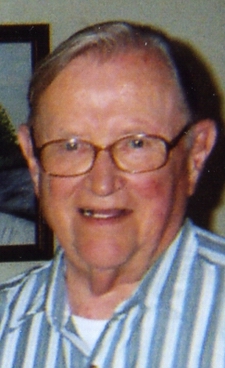 Grant T. "Ted" Bush, 80, Carlisle, went to be with his Lord on Friday, October 5, 2012, at Carlisle Regional Medical Center. He was born on Saturday, February 6, 1932, in Syracuse, NY, a son of the late Grant and Mabel (Fralick) Bush.
Ted graduated from Central High School in Syracuse and was a US Navy veteran of the Korean War. He worked in the trade show decorating business most of his life and was the owner of Total Exhibition Concepts decorating company. Ted was a member of the Newville Assembly of God Church.
He is survived by his loving and devoted wife of 24 years, Dorothy L. (Lindsay) Bush, four sons; E. Grant Bush and his wife, Jane of Cary, NC, Michael T. Bush of Harrisburg, Benjamin G. Bush and his wife, Tina of Ashland, KY and Robert L. Bush and his wife, Sherry of Etters, three daughters; Linda Fickes and Lorrie Mixell, both of Newville and Leslie Fickes of Mechanicsburg, one sister, Kathleen Adolph of Wilmington, NC, 15 grandchildren, 19 great-grandchildren and several nieces and nephews. He was preceded in death by one brother, William Bush.
Funeral services will be held on Thursday, October 11, 2012, at 1:30 p.m. in the Ewing Brothers Funeral Home, 630 S. Hanover St., Carlisle, with Rev. Jeffrey Kettering officiating. Burial will be in Mt. Holly Springs Cemetery. A viewing will be held on Thursday from 12:30 p.m. until time of the services at the funeral home. Memorial contributions may be made to Newville Assembly of God, 403 Oak Flat Rd., Newville, PA 17241.
Click here to send a condolence

I am very sorry for your loss, Uncle Ted meant the world to his parents and was always there when they needed him.
My prayers are with your family.
God Bless
Bill Bush
_____________

Your message of condolence will appear here.