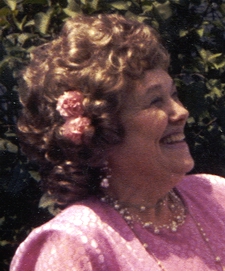 Martha L. Reisinger, 75, of Carlisle, went to be with her Lord on Tuesday, October 2, 2012, at her home. She was born on Saturday, November 7, 1936, in Newville, a daughter of the late Howard K. and Mary M. (Sherick) Negley.
Martha retired after 19 years of service as a C.N.A. with Chapel Pointe at Carlisle and also worked for many years at the former U-Wanna-Wash Frock in Newville. She attended Victory Tabernacle in Carlisle. She enjoyed drawing and reading the Bible daily.
She is survived by her loving and devoted husband of 22 years, Vance L. Reisinger, two sons; Richard E. Failor of Carlisle and Bradley A. Failor of Harrisburg, two daughters; Debra L. Petonyak of Carlisle and Grace E. Barrick and her husband, John of Newville, three step-sons; Terry L. Reisinger of Fayetteville, Kurt E. Reisinger of Baltimore, MD and Rodney Gish of Millerstown, three step-daughters; Diane C. Wagamen and Brenda J. Mixell, both of Chambersburg and Sheila M. Boher of Hancock, MD, two brothers; Lee and Richard Negley, both of Newville, three sisters; Kathryn Danner of Carlisle and Ruth Gutshall and Evelyn Ocker, both of Newville, many grandchildren, great-grandchildren, nieces and nephews. Martha was the widow of Ray F. Failor, who died March 3, 1982 and Guy D. "Jim" Boyd, who died March 3, 1989. She was also preceded in death by one son, Marlin R. Failor, three brothers; William, Paul and Harry Negley and three sisters; Grace Ickes, Dorothy Young and Helen Thrush.
Funeral services will be held on Monday, October 8, 2012, at 1:30 p.m. in the Ewing Brothers Funeral Home, 630 S. Hanover St., Carlisle, with Pastors Glenn Yohn and Glenn Young officiating. Burial will be in Cumberland Valley Memorial Gardens, Carlisle. A viewing will be held Monday from 12:00 p.m. until time of the services at the funeral home. Memorial contributions may be made to Victory Tabernacle, 472 E. North St., Carlisle, PA 17013.
Click here to send a condolence

Your message of condolence will appear here.