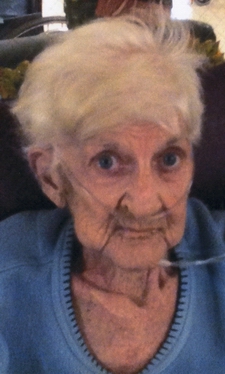 Dorothy C. "Dottie" (Davis) Porto, of Carlisle, passed away on Sunday, September 30, 2012, at Carlisle Regional Medical Center. She was born in Carlisle, a daughter of the late Leo and Sarah H. (Glass) Davis and was the widow of Albert J. Porto, who died Jan. 28, 2002
Dottie had worked at the Mechanicsburg Naval Supply Depot, was the former owner and operator of Carlisle Cleaners and was also formerly employed at the Embers Hotel and Restaurant, Carlisle. She was a member of St. Patrick Catholic Church, Carlisle. She was a loving mother, grandmother, aunt and sister. Dottie loved spending time with her family. She loved people, animals and was always willing to help someone in need. She was a great cook, an avid backgammon player, enjoyed reading, crossword puzzles, dancing, telling jokes and loved summertime.
Surviving are three children; Victoria A. Porto and her husband, Kenneth Rush of Carlisle, Albert J. Porto, Jr. of Carlisle and Valentina P. Chubb and her husband, Jeffrey of Camp Hill, two grandsons; Adam P. Chubb of Camp Hill and Davis P. Chubb of Lancaster and numerous nieces and nephews. Dottie was preceded in death by one sister, Louise Elicker, two brothers; Carl and John Davis, a half-sister, Anna Reffner and three half-brothers; Virgil, Henry and Kenneth Reffner.
A memorial mass will be celebrated on Thursday, October 4, 2012, at 10:30 a.m. in the St. Patrick Shrine Church, 152 E. Pomfret St., Carlisle, with Rev. Dwight D. Schlaline officiating. Burial will be held at the convenience of the family at Indiantown Gap National Cemetery, Annville. A visitation will be held on Wednesday from 6 - 8:00 p.m. at the Ewing Brothers Funeral Home, 630 S. Hanover St., Carlisle. Memorial contributions may be made to St. Jude Children's Research Hospital, 501 St. Jude Place, Memphis, TN 38105.
Click here to send a condolence

To vickie,tina and jimmie my sympathies to all of you and may God look over you and help you thru the grieveing process.

tom and mary ann
_______________

Tina you have my most heart felt sympathy in the loss of your mother. I will keep you and your family in my prayers during this time of sadness.

Cindy Brown Walter
_______________

Dottie was a big part of my childhood years.
What a great sense of humor she had! Prayers and love.

Rita Cantalupi Bitner
_______________

Sorry to hear of your loss.. There is nothihng like a mother's love.
My deepest sympathy to all the family.

Debi Guise
_______________

RIP Dottie now you an mom can play baccammon in heaven. You were a great lady.To the family, Im reaaly sorry to hear you lost your MOM. It's always hard to lose aloved one.

Yvonne Holmes Gates
_______________

The Membership of AFSCME Local 2456 sends their deepest condolences to Sister Chubb and the Porto family during this time of loss.
With deepest sympathy -

The Members of AFSCME Local 2456
_______________

Vicki .. I was so sadden to read of ur mother's death. I pray God puts His arms around u and give u comfort, peace and strength during this trying time. Blessings & Love, Jackie

Jacqueline Goodling Ege
_______________

Someone so special can never be forgotten, our hearts are filled with sorrow.

Don and Ruth
_______________

Louther Street will never be the same.
John Hutchinson
_____________

Tina, Vickie & Jimmy, So sorry to read of the loss of your Mother. My thoughts & prayers are with you during this time of sadness.
Joanie Mahoney Rupp
_____________

Dottie had a wicked sense of humor and I'll always remember the times we spent on her "porch" on Louther Street, sunbathing in the back yard so many years ago and running the car down to the Boiling Springs pool. She was a special woman with a lot of spunky personality. I'll always have fond memories of her.

Bertie and Denis
_____________

Vicki, you and your family will always have love in your heart for your Mother. I met you in the nursing home and you could tell she was being loved by her family. May God be with you and your family as the years go by.

Darlene (McLaughlin) Black
_____________

I always had a good time when I would come over to your mom and dad's house as I knew I'd soon be eating some great Italian food and playing cards. What began as a friendship with Tina soon included the whole family, especially your mom. She was funny, warm and friendly. It is hard to have her leave but I like to think of her again by your wonderful dad's side.

Mikki
_____________

Tina, Vicki, Jimmy, and all the Porto family--I send you my love and sympathy. The Portos and the Hutchinsons have a long history together as neighbors and friends. Dot was very much a part of my life and growing up. She was an unassuming lady with a very kind and generous heart. I will treasure the many, many memories I have of her. I am grateful she was in my life.

Ginny Hutchinson
_____________

So sorry to hear about Aunt Dot. My thoughts are with you.

Lisa Prokosch
_______________

Tina, and sister, Vicki, and brother, Jimmy...
My sincerest condolences and sympathy to all of you

Kathy Powless Crawford
_______________

My sincere sympathy to all of you on the passing of your mom. She will always be a wonderful memory of my childhood. We didn't know it as young children then, but we children of that neighborhood were surrounded by beautiful, caring and extremely funny people the likes of which are hard to find today. God bless you all.

Georgenne Fitzpatrick Loy
_______________

Vickie: I was so sorry to hear of your moms passing.I lost my mom 2 years ago-that void will never be filled.I was happy to see you got married.Hope all is well with you.

bernice Dorn
_______________


Your message of condolence will appear here.