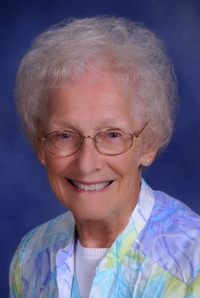 Betty J. Kress, 78, of Carlisle, died September 8, 2012, in the Sarah A. Todd Memorial Home, Carlisle. She was born July 27, 1934 in Westminster, MD, and was a daughter of the late Howard L. and Lillie M. (Dutterer) Petry and the widow of Edward W. Kress, Sr.
Betty was a 1952 graduate of Littlestown High School and took courses at Harrisburg Community College. Her first job was with United Telephone Co., where her husband worked until his death. Later she worked at Dauphin Bank. She finished her working career at the Medical Clinic and the Resource Management Department of Carlisle Barracks. She was a member of St. Patrick Catholic Church, Carlisle, where she served as a Eucharistic Minister. She was a member of St. Patrick Council of Catholic Women and served on the Local, District, Diocesan and National Boards. Betty was a member of the Diocesan Serra Club. She was a Member and former President of the Carlisle Civic Club. Betty enjoyed her family, her house and garden. She loved sewing, crocheting and reading. For many years she took care of her aunt, Dorothy Leister of Shippensburg.
She is survived by three sons; Edward Kress, Jr. and his wife, Barbara of North Canton, Ohio, Anthony Kress and his wife, Kathy of Clarksburg MD, and Thomas Kress and his wife, Michelle of Gurley, AL, two daughters; Peggy Baker and her husband, Rick of Gettysburg, PA and Beverly Collett and her husband, Ron of Millersville, MD, one brother, Charles Petry of Conway, SC and one sister, Mary Nunemaker of Fayetteville, 14 grandchildren and 3 great-grandchildren. Betty was preceded in death by one son, Michael J. Kress and one sister, Doris M. Sherman.
Mass of Christian Burial will be celebrated on Friday, September 14, 2012, at 10:30 a.m. at St. Patrick Catholic Church, 85 Marsh Dr., Carlisle, with the Very Reverend William C. Forrey officiating. Burial will be private in St. Francis Xavier Cemetery, Gettysburg, where her husband and son are buried. A viewing will be held Thursday from 6 - 7:30 p.m. in the Ewing Brothers Funeral Home, 630 S. Hanover St., Carlisle with a Prayer service beginning at 7:30 p.m. Immediately following the service on Friday, the family invites all for a time of fellowship in the church social hall. In following Betty's wishes, the family kindly requests no flowers. Memorial contributions may be made to St. Patrick Catholic Church Building Fund, 152 E. Pomfret St., Carlisle, PA 17013.
Click here to send a condolence

To the family:
Betty was such a lovely and kind woman to everyone she met. I worked with Betty at United Telephone Company and we did speeches together. She was a joy to be with and never was negative about anyone. She was a complimentary person. Betty was a very divine lady that I was so grateful to know. May God's Hands of warmth bestow upon your hearts to comfort you along this path and my prayers will be with you. Take wonderful care of each other.

Susan L. Garner Startzel
_______________

Sorry to hear of your moms passing, she was a fighter. I didn't know her, but I admired her from all that I have heard about her.

David Gibson
_______________

My deepest sympathy to the family. I worked with Betty at the phone company. May God bless her and the family.
Terri Shryock Shirey
_______________

Dear Family, Our heartfelt sympathy on your loss. We will miss Betty. May you find your comfort in the Lord. He will be found of those who seek Him.
Art & Anne Amundsen
_____________

To Betty's family --
My sincere sympathy to Betty's family. I knew her for many years as a sister Life Member of the Harrisburg Diocesan Council of Catholic Women. She was the embodiement of our Mission Statement...a truly kind and compassionate lady. She will be greatly missed by all who knew her.

Louise Condon
_______________


Your message of condolence will appear here.