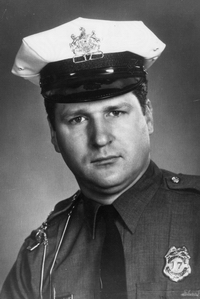 Joseph A. Stimeling, Sr., 71, of Carlisle, died Sunday, August 5, 2012, at his home. He was born Wednesday, January 1, 1941, in Carlisle, and was a son of the late Roy Edward Stimeling and Margaret (Heberlig) Stimeling. He was married to the late Patricia Ann (Bucher) Stimeling, who died Nov. 14, 1988.
Joe was a 1959 graduate of Carlisle High School and was a US Army veteran. He served with the Carlisle Police Department for 26 years and retired in 1992. Joe was a member of Mt. Holly Springs American Legion, Carlisle Eagles Aerie 1299, St. John's Masonic Lodge and the Fraternal Order of Police.
He is survived by three sons; Joseph A. Stimeling, Jr. (and his wife, Peggy) of Carlisle, Kirk D. Stimeling of Carlisle and Roy Edward Stimeling (and his wife, Erika) of Mt. Holly Springs, two daughters; Vickie L. McGuire (and her husband, Ron) of Carlisle and Becky Casey of Mechanicsburg, four brothers; James Stimeling of Orlando, FL, his twin brother, Jacob Stimeling of Carlisle, Paul Stimeling of Vero Beach, FL and Gerald Stimeling of Orlando, three sisters; Mary McCoy of Newark, DE, Retta Williams of Orlando and Naomi McKillip of Carlisle, 11 grandchildren, 8 great-grandchildren and many nieces and nephews. Joe was preceded in death by two sisters; Darlene Faye Jones and Phyllis A. Kane.
In following Joe's wishes, funeral services will be privately held in the Ewing Brothers Funeral Home, Carlisle, with Rev. Kevin Dunlap officiating. Burial with military honors by Cumberland County Honor Guard will be in Trindle Spring Cemetery, Mechanicsburg. Memorial contributions may be made to a charity of your choice.
Click here to send a condolence

The Stimeling Family
Sorry for your loss. Our thoughts and prayers are with you.

Rick and Barb Keeseman
_______________

There comes a day we must all part from this world.
God has prepared us another resting place for Eternal life.
Hopefully we will all meet there one day. Joe was a good Brother and filled in with his Brothers & Sisters when our Dad passed on.
He will long be remembered for his kindness.
Rest in Peace my Dear Brother.

Naomi (McKillip) Krom & Steve Krom
_______________

Our deepest sympathy goes out to your families at this sad time.

Laurie (McKillip) Mellott and Family
_______________

To the familey of Joe Stimeling Sr. Our thoughts and prayers are with you at this time of your great loss Joe will be missed.

Tom , Patti and Dillon Moose
_______________

Our deepest condolences on the recent passing of Joe.
He was a loyal and dedicated public servant.

Randolph Hays family
_______________

we are sorry for your loss you will be in our prayers
mary and bill nickey
______________

Just can't say enough Joe, you were one of a kind and a great man. I will always here you say to me you will always be my little girl. I will miss seeing you and the hugs you gave me even if i'm not in the family. You always made me feel like i was always a part of you and the love you gave me and you accepted me no matter what. I will miss you and i will always love you and i know you are in a better place where there is no more pain. But i know you are up there running after the angles. Love you, and you will always be my father in law.
Sandy Stimeling
______________

I would like to express my condolences to your family. I have only known Joe for about 5 years. In that time, he was always courteous and friendly, humorous, and just a sweetheart. I know that he walked a rocky road at the end of his journey, and maybe it would be helpful to know that he walks a much softer, gentler path. Filled with sunshine, warmth and peace. Maybe there will be tickets there, and he will win at least once a day:-) In closing I will say..I will miss my friend Joe.
Blessed be,
Stacy Lynch
_____________

Sorry to hear of your loss. Will remember the good times with him.
Bruce Faircloth
_____________

The Stimeling Family
Sorry for your loss. My thoughts and prayers are with you

Thomas J Crossen
_______________

My deepest sympathy to the Stimeling family. I have not seen Joe since he was a young boy and he had that award winning smile. Darlene and I were friends. I have many fond memories of your family. So sorry for your loss.

Sincerely,
Vonny Clelan Harrington
_______________

Our deepest sympathies to you and your family.
Ed and Chari Flanagan
______________

Your Dad was a most special brother whom I loved dearly. Please know my heart grieves with you all and for you all. I am always here should you need me.

My love to you all, Aunt Retta (Joanne)

Retta Joanne Williams
_______________

I graduated from Carlisle High the same year as Joe. My sympathy to the family. Time goes by and we lose touch. I read the on line paper and noticed his obituary.

Glenn I Treaster
_____________

Thoughts and prayers from my family to yours at your time of loss. Everytime I think of Joe a great big smile comes to my face for that I am greatful and a better person for knowing him!!
Stephen Strine
_______________
Your message of condolence will appear here.