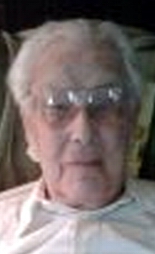 Marlin R. Kerr, 98, of Carlisle, died Saturday, July 21, 2012, at Carlisle Regional Medical Center. He was born Friday, October 17, 1913, in Carlisle, a son of the late John M. and Carrie M. (Raffensperger) Kerr and was widowed from Violetta "Skip" (Billet) Kerr, who died Jan. 12, 1988.
He was a Carlisle High School graduate and served in the Army and as a Captain in the Army Air Force during WWII. Marlin retired after owning and operating Carlisle Wood Craft for 41 years. He was formerly employed by the PA State Securities Commission and the PA State Labor Relations Board. He was a lifelong member of First United Methodist Church, Carlisle, where he taught Sunday School for 26 years. Marlin attended Wesleyan Church of The Cross, Carlisle.
Marlin is survived by several nieces and nephews.
Funeral services will be held Thursday, July 26, 2012, at 10:30 a.m. in the Ewing Brothers Funeral Home, 630 S. Hanover St., Carlisle, with Rev. Daniel R. Mikesell officiating. Burial with military honors by Cumberland County Honor Guard will be in the Old Graveyard in Carlisle. A viewing will be on Thursday from 9:30 a.m. until time of the services at the funeral home. Memorial contributions may be made to Wesleyan Church of The Cross, 430 "B" St., Carlisle, PA 17013.
Click here to send a condolence


Andy and family,
So sorry for your loss, your all in our prayers,

Melody and Danielle
_______________

Marlin was a wonderful neighbor. We loved to visit with Marlin and he especially like to see the kids as they grew up. Halloween.
We will miss him dearly.

The Kohler family
_______________

In the short time I knew Marlin he was a great gentleman.
He always had a kind word to say and a smile on his face.
It was a pleasure taking care of him.

Nicole
_______________

Andy and family:
I was sorry to read about your uncle's death in Tuesday's Sentinel. I only had a few opportunities to spend short periods of time with him, but he seemed like such a kind and gentle man. I know I have told you this before, but back in the mid to late 30s, your uncle and my aunt must have been quite a "thing". My Dad often told me that if my aunt hadn't gone off to college, that he was certain that your uncle and my aunt would have married each other. I can assure you that he was much better off marrying Skip!! Anyway, my Dad always spoke very highly of Marlin. I know he liked and respected him very much. Another good soul has left us. I won't be in town on Thursday, otherwise I would have attended Marlin's service. I will continue to hold you in my thoughts.

Sue Graham Lee
_______________

We have lived on Glendale St for 11 years. It has only been in the last several years that Marlin has not been able to plant his flowers and mow his own lawn. He was also still driving! We always marveled at the health he had been blessed with. When asked how he stayed so fit, he would tell me, "Clean living Karen, clean living" ;o) Also, we looked forward to the holidays when he would set a large Bible in the front window open to the story of the birth of Christ. The Bible was flanked by candles and a pionsetta. This world has lost a wonderful person but our loss is heaven's gain!

Bob & Karen Rowe
_______________



Your message of condolence will appear here.