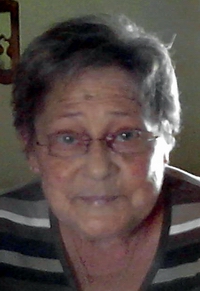 Violet G. "Vi" Newcomer, 76, of Carlisle, passed away Monday, July 16, 2012, in Harrisburg Hospital. She was born Thursday, March 26, 1936, in Carlisle, a daughter of the late Arthur H. and Mary E. (Keiter) Goodhart.
She was a 1954 graduate of Carlisle High School. Vi was a loving homemaker and retired after more than 20 years of service with the Department of Defense at Carlisle Barracks, where she was a transportation assistant. She was a member of Carlisle Eagles Aerie 1299 Ladies Auxiliary and she enjoyed playing the PA lottery daily number and being in the pit crew for her son when he raced micro-sprint cars. Vi was a tremendously strong woman, who was devoted to her family and children. She was hard working and tenacious and would help no matter what the situation or her condition. Vi will be sorely missed by all those she has touched.
She is survived by her devoted husband and companion of 48 years, J. William Newcomer, two daughters; Rhonda D. Newcomer of Carlisle and Karen K. Bailey of Mechanicsburg, one son, Ronald L. Dick, Jr. of Carlisle, two stepsons; Michael L. Newcomer of Newville and John S. Newcomer of Mt. Holly Springs, one stepdaughter, Trudy McGrath of Atlanta, GA, two brothers; Arthur F. Goodhart and Gerald J. Goodhart, both of Carlisle, two sisters; E. Carol Kerr and Joy K. Sherman, both of Carlisle, six grandchildren; William and Erin Newcomer, Jaclyn Manderewicz, Kristen Jimenez and Steven and Rachel Newcomer, four great-grandchildren and many nieces and nephews. Vi was preceded in death by two sisters; Donna M. Smith and Patricia G. Whalen.
Funeral services will be held Friday, July 20, 2012, at 1:30 p.m. in the Ewing Brothers Funeral Home, 630 S. Hanover St., Carlisle, with Pastor Timothy Wheeler officiating. Burial will be in Cumberland Valley Memorial Gardens, Carlisle. A viewing will be held Friday from 12:00 noon until time of the services at the funeral home.
Click here to send a condolence

Rhonda, Karen and Mike
So sorry for your loss. She was a great lady and will be missed.

Love JoAnn & Craig
(JoAnn & Craig Sanderson)
_______________

I am truly sorry your loss.
Violet definately was a very special lady who touched my life
in so many ways.

Kim Whitaker
_______________

I am so sorry for your loss. Vi was such a strong force to work with over the year's that it is hard to believe that she is gone. She was such an exceptional person to deal with and will be greatly missed by myself and all of us at Lytle's Transfer.

Shannon Beatty, Lytle's Transfer
_______________

When Vi came in to the credit union it was like a friend was coming to visit and chat. She was one of the "regulars" and we all enjoyed her visits. She touched all of our hearts and her kind, smiling face will be greatly missed.

The Members 1st Girls: Melissa, Becky and Stevie
_______________

I am sorry for your loss.
Vi was a nice lady who always waved as she zoomed down the street.

Amy (Shellenberger) Mcquillen
_______________

My deepest condolences to Vi's family, she was such a character and I so enjoyed the times we spent together at work "on breaks."
You are in my heart and prayers.

Anne Hurst
_______________

Vi was always an incredible pleasure to work with. Though I only met her once or twice in person, I had the joy of speaking with her on the phone every day for years. She taught me patience and grace in the workplace. She will be very sorely missed.

Francesca Fiamingo, Camp Curtin Transfer
_______________

So sorry to hear of your loss. My prayers go out to the Goodhart family.
Vi was one tough cookie who we all loved!

Danita Lisk
_______________

Karen, Rhonda and all family members,
So sorry to hear of Vi's passing. She was well loved and will be greatly missed. Thoughts and prayers are with you all.

Nancy Goodling
_______________

To the family and friends of Vi.
I saw the obit in todays paper, so I wanted to send my condolences. She was a beautiful person and will be sadly missed. I have alot of good memories working with her at the Eagles. My thoughts and prayers are with all of you at this time of loss and sorrow.

Mr and Mrs Tyke Delp
_______________


In our many years working with Vi and the military we knew how valuable she was to our moving business. We haven't worked with Vi for many years but have missed her greatly. She was the essence of hard work! Condolences to all of her loved ones.

Tish and Tony Fiamingo, FIAMINGO MOVING & STORAGE

_______________

Karen, Rhonda & Family - I'm so sorry to hear about your mom's passing.

Lynda Sferes
_______________

Sorry to hear that Ms Vi passed, she was a great person, enjoyed working with her and the sisters at the eagles, I will surely miss "Hellun" like I always called her, be at peace, the family lost a great lady.

diane schindler
_______________

Rhonda, I am so sorry to hear of your mothers passing. She was a great lady who always made me smile. I know you have many fond memories to sustain you. Your family will be in my prayers.

Shelley DeIvernois
_______________

My prayers go out to the family.
Vi was a very nice lady I new her from when I was a little girl.

Tina Hughes ( Carbaugh )
_______________

Bill, Rhonda, Karen, Bud, Mike and John and family.
I am so sorry to hear of your loss. Now she was one lady with spunk! I have so many fond memories of Vi... all those nights sitting around the table eating our ice cream and just talking. Sometimes she felt like a second Mom to me. And then when we drag raced up the on ramp of Rt 81 from the Hanover Street north bound on ramp, Vi in her 1969 Torino! That sure was a nice car, and fast too! Mike, we sure had some good times, didn't we? Remember when Vi loaned us her Impala SS 396 convertible? I'll never forget her telling me, "Roger, now when you tromp on it", not if, but when (and I did)! She was a great lady and even though it's been a few years since I have seen her, I'm going to miss her.

God bless you all!
Roger L Rickrode
_______________

Rhonda, Karen & Mike,
We will miss Vi. We would see her from time to time at the Hamilton Resturant. She was very proud of her family and especially her granddaughter. She was a friend, a great lady to work with and was willing to help us in any way she could.

Kim Zeigler and Brenda Davidson
_______________

Sincere Condolences for the loss of Vi.
Linda Slaughter
______________

Rest in Peace my Friend.
Linda Manning
______________

It's taken awhile, but I've finally found the strength to visit this website and read Mom's obituary. Many thanks to the Ewings for a lovely service and this equally lovely tribute to my mother. To all those who sent condolences and attended Mom's funeral: Thank You and May God Bless You! She's obviously touched the lives of many in a very positive way. I love Mom more than I can say, and I miss her greatly. She was a wonderful woman, and she did more for me than I could ever repay (not that she would ever allow me to anyway!). Rest peacefully in your beautiful new home Mom. With God's grace, I look forward to the day when I join you there. For now, frequent visits to the cemetery will have to be enough as I carry your memory with me daily. You will always be in my heart.

Love eternally, Bud
(Ron Dick Jr. "Bud")
_______________



Your message of condolence will appear here.