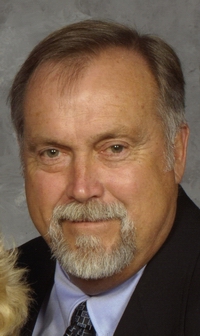 Ronnie Lee Nester, 63, of Carlisle, died Wednesday, July 4, 2012, at Carlisle Regional Medical Center. He was born on Wednesday, July 7, 1948, in Hanover, a son of the late Harlan and Geraldine (Fogle) Nester.
At the age of 10, his family moved to Florida, where he later graduated from DeLand High School. After graduation, he moved back to Pennsylvania, where he met and married Donna Jacoby. He became a police officer with the Carlisle Police Department in August 1971. In 1993, he became a Detective and retired in September 2005, with 34 years of service with the Carlisle Police Department. He then worked for the Carlisle Area School District in the Security Department as the O.I.C. and then retired again after six years of service on June 10, 2011. Ronnie was a member of the F.O.P. Lodge 76 and the Carlisle Elks Lodge. He attended Otterbein United Methodist Church, Carlisle. He loved to hunt and fish with family and friends, riding his motorcycle, taking trips with other motorcyclists, traveling and camping. He was a wonderful husband, father, grandfather and friend. He will be deeply missed.
He is survived by his loving and devoted wife of 42 years, Donna M. (Jacoby) Nester, two sons; Bryan R. Nester of Carlisle and Todd L. (and his wife, Alicia) Nester of Enola, four grandchildren; Desarae Nester, Collin Nester, Alison Nester and Madison Nester, one great-grandson, Jaiden Scott and one brother, Daniel (and his wife, Bonnie) Nester of Florida.
A memorial service will be held on Sunday, July 8, 2012, at 2:30 p.m. in the Otterbein United Methodist Church, 647 Forge Rd., Carlisle, with Rev. Daniel Dennis officiating. Burial will be private. A visitation will be held on Sunday at the church from 12:30 p.m. until time of the service. A time of fellowship will immediately follow the service at the church. Ewing Brothers Funeral Home, Carlisle, is assisting the family with the arrangements. Memorial contributions may be made to the Leukemia and Lymphoma Society, 800 Corporate Circle, Ste 100, Harrisburg, PA 17110 or to the American Cancer Society - Capital Area Unit, 2 Lemoyne Dr., Ste. 101, Lemoyne, PA 17043 or to the American Heart Association, 1019 Mumma Rd., Lemoyne, PA 17043.
Click here to send a condolence

Dear Donna,
We are so sorry to hear about Ron's passing. He was such a wonderful person. We send our love and prayers to you and your family.

Cathy and Mike Sroka
_______________

We were so shocked and saddened to hear of Ronnie's passing.
Deepest sympathy to you and your entire family.
God Bless you all.

Harry & Elaine Fogle (Uncle and Aunt)
Karen Fogle (cousin)
Titusville, FL
_______________

Dear Nester Family,
My husband and I had gotten to know Ron when we owned The Olde Fishing Station in Carlisle. He was a wonderful man and we enjoyed his company at the store. He was always a gentleman and good friend. We are so very sorry for your loss. I hope that your wonderful memeories of Ron will help get you through these most difficult days. Prayers are coming your way.

Laurel Lautsbaugh
_______________

Donna,
Doug and I haven't seen you or Ronnie in years, but we have fond memories of taking motorcycle rides with you. Our deepest sympathy to you and your family. We pray you feel God's peace and love around you during this sad time.

Doug & Renee Mountz
_______________

We send our sympathies to Donna and her family.
Our love is with you.

Joyce & Brian Randall
_______________

Donna and family,
I am so sorry to hear of Ron's passing. He was a wonderful man and a super neighbor. Our thoughts and prayers are with you.

Andrea Ciccocioppo
_______________

We all are going to miss "my Ronnie". He is the only man in the world who put up with both Donna and me. He is truly a saint.

Sue Sullivan
_______________

Donna and Family, it was with deep sadness when we learned of Ron's death. You have our deepest sympathy. You will be in our thoughts and prayers in the days, weeks, months years ahead. We will be unable to attend the service but know that our heart is with you.

Barb Adams, Heather Bear
_______________

Donna and Family:
I was so saddened to hear of Ron's passing. He was much too young. Please know that you are in my thoughts and prayers.

Candy Weller
_______________

Our deepest condolences to the family

From, Tom and Mary Spanos
_______________

Donna my heart is aching for you and your family. Prayers and thoughts are with you as you grieve the loss of such a wonderful man.

Traci Smith
_______________

To Donna and Family,
I was so saddened to hear about Ronnie. I haven't talked to him since his retirement from the school district, but he was always fun to talk to when he'd call me at work (NM Police Dept). He loved to kid around and was always friendly, upbeat, and helpful, too. He was a really great detective and he and Ronnie E. made a great team. They've both been taken from us way too soon. Both Bob and I want to send you our deepest sympathy and pray that your wonderful memories will see you through this most difficult time. We'll keep you and your family in our prayers.

With heartfelt sympathy,
Debbie & Bob Stought
_______________

So sorry to hear about ron. He fought the good fight.
May memories friends and family help you

Love mona rebuck king
_______________


Donna, Bryan and Todd,
We are so deeply sorry for your loss.
We are all praying for you to find comfort in your time of need.

Vickie Kuhn, Jeff Kuhn, and Crissi Kuhn-Setzer

_______________


A customer in our motorcycle shop for years. We knew he was struggling with cancer. From Gerry, Paul, and Bill. The "guys" at the shop. He will be missed.

Bill Viney
_______________

Donna, you and your family are in my prayers. May God grant you peace.

Evelyn Boyer
______________

Dear Donna,
I'm so sorry to hear of Ron's passing. I couldn't believe it when I saw it on a friends facebook. I really enjoyed talking to you both at school. You have my deepest condolence and will be in my thoughts and prayers.

Love, Kathy/Roger Hedrick
_____________

Sincere thoughts and prayers to Mrs. Nester and family at this time. You two are so deeply loved by the community. Hold those memories close.

Love, the Frombaugh Famiy
The Frombaugh Family from LMS
_____________

Dear Donna,
I can feel your pain and praying that each day will get easier for you. It takes time and I am still working through it but know Ronnie and Mom are probably watching us from above.

Krista Andrews Uplinger
Randy and Krista Uplinger
______________

Sincere sympathy to Ronnie's family and friends.
He was a fine man and police officer.

Brother, John Bruno FOP#76
_______________

Donna,Bryan,and Todd,
It's been a long time that I've seen Ron and I'm sadden to hear of his passing. I will always remember is smiling face. I always felt safe where we lived as kid because he would walk to and from work in uniform.I will keep everyone in my thoughts and prayers

Mike Eichelberger
_______________

We were sadden by the sudden death of Ron. Ron was a neighbor to our gandparents who lived on W. South Street. He was a fine gentleman. Plese know that you will be in our prayes.

Dolly Rice Kern and Family
_______________

Donna & Family:
Please accept my deepest condolences regarding the loss of your beloved Ron. He was truly a great spirit. Upon hearing of his passing, this old Irish passage came to mind: "Death leaves a heartache no one can heal, love leaves a memory no one can steal." With deepest sympathy my thoughts and prayers are with you and yours.

Matthew Teter
_______________

Am truly honored and blessed to have him in my life/heart-from the tot lot to little league to now and forever. Thoughts prayer and thank you for sharing him with me and my family

Susan Wolf
_______________

Mrs. Nester,
I am so sorry to hear of the passing of your husband. I worked with him once at a school. My thoughts are with you.

Margaret Weston (mother of Marten & Kenzie)
_______________

Please accept my sincere codolences at the loss of Ron.
I knew him from the DJ's office & he was always a kind & funny man.

Cheryl Lowery
_______________

Dear Donna & Family,
We send our sincere sympathy on the passing of your beloved Ron.
We hope and pray that the happy memories of your life together will lighten the burden

Sincerely, Barb & Don Brehm
_______________

Donna, Brian and Todd,
I was so shocked to hear about Ron and I guess you could say I am still in shock. I remember the great times we had camping together when our boys were younger. I remember Ron cutting firewood and hunting all the time. I remember him calling us when he found our lost cat at the elementary school when an alarm went off. I remember going to the beach and all the good fish that were caught. I can remember alot of great times. My prayers are with you and your family as you go through this terrible time. I know Ron will keep an eye on you and make sure you are safe. Donna, you will feel his love for you everywhere you look or go. If there is one thing I can say it is that he really loved you more than anything. We will keep in touch and I am here if you need me.

June Sheaffer
_______________

Donna, my family and I are sorry to hear about Ron passing. I know how much he will be missed by numerous amount of people. My parents talked highly of Ron. Prayers to you and your family.

Garry Teter Jr and family
_______________

So sorry for your loss.

Marianne Smith
_______________

Donna,
I just got back and heard about Ron. I am so sorry to hear this news! Call if you need anything.

Chris Winter
_____________


Donna, This is Betty Casner, Mildred Bouch's daughter.
I am sorry to hear about Ron.

Betty Casner, Mildred Bouch
________________



Your message of condolence will appear here.