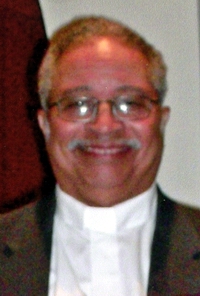 Rev. Fred D. Johnson, 75, of Carlisle, passed away with his loving family by his side on Friday, June 15, 2012, at his home. He was born on Thursday, October 15, 1936, in Pittsburgh, a son of the late Elijah and Myrtle (Wygate) Johnson.
Fred graduated from Plum Borough High School and served in the US Air Force from 1957 to 1959. In 1964, Fred was born again and called into ministry through the Gospelite Outreach Ministry in New Kensington. His greatest passion in life was to lead men, women, boys and girls to Christ. He took courses on pastoral studies and was licensed through the Evangelical Church Alliance of Bradley, IL. Fred was a member and associate pastor of the Abundant Life Fellowship Church, New Kensington and served the Lord as an Evangelist for many years locally and regionally. He served as interim Pastor at South Fairview Church of God, Newville and Geistown Bethany Church. Fred also served as an associate, assistant and interim Pastor at Shiloh Missionary Baptist Church, Carlisle, where he coordinated the church prayer breakfast for more than 30 years and co-founded the Street Ministry. Fred was a Sunday School and Vacation Bible School teacher. He served on the Board of the Carlisle Salvation Army and as Treasurer for the Black Ministerium, Carlisle. Fred was a guest on the television program "The Happiest People" broadcast from Red Lion. He retired from PPG Industries, Carlisle after many years of service and formerly co-owned with his brother, Reginald, Johnson Brothers Hauling, New Kensington. After retirement, he worked as a cafeteria proctor at Hamilton Elementary School, Carlisle. Fred was a faithful and loving husband, father and friend.
He is survived by his loving and devoted wife of 17 years, Ruth Marie (Lyle) Johnson, one son, Major (Ret) Fred D. Johnson Jr., US Army and his wife, Coleathea of Dumfries, VA, two brothers; Rev. Reginald Johnson and his wife, Delores of Carlisle and Jerome Johnson of Pittsburgh, one sister, Gloria Bassett of New Kensington, three step-daughters; Andrea and husband, Gregory Chambers of Arnold, Cassandra Lyle of Carlisle and Sherri Peterson of Arnold, six grandchildren, five great-grandchildren and many nieces and nephews. Fred was preceded in death by his first wife, Loretta (Boyd) Johnson, one daughter, Ramona Thompson, two brothers; Gerald Johnson and Bob Keys and three sisters; Abigail Peterson, Honaka Bizins and Shirley Brown.
Funeral services will be held on Wednesday, June 20, 2012, at 11:30 a.m. in the Ewing Brothers Funeral Home, 630 S. Hanover St., Carlisle, with Rev. Roger C. Thomas, Sr., officiating. Burial with military honors by Cumberland County Honor Guard will be in Cumberland Valley Memorial Gardens, Carlisle. A viewing will be held on Tuesday from 6 - 8:00 p.m. at the funeral home and on Wednesday from 11 a.m. until time of services. Memorial contributions may be made to Abundant Life Fellowship Church or to Shiloh Missionary Baptist Church.
Click here to send a condolence

Love, prayer and sympathies to Miss Ruthie and the whole family. "Mr. Fred" was such a blessing and his smile was absolutely contagious. He will be greatly missed. I am praying that God wraps His arms of comfort around all of you. Much Love

Annabelle "Annie" McGee
_______________

Dear Ruthie,
You and family are in our prayers. I always love being around Mr. Fred, he was so jolly and made you feel so special. We will miss him.

Sharon & Jerry
_______________

In tribute to a great man who has devoted his life to the service of the Lord. We share sorrow with the family, but rejoice in the celebration of his life and are comforted, knowing he is now in God's Eternal Care.

Linda and George Smith
_______________

Finally home...finally home.
Dear Mr. Johnson, is finally home.

Audrey Trussell
_______________

To the Family of our late Rev. Fred Douglas Johnson,
We the members of the Shiloh Missionary Baptist Church Music Ministry do send our heartfelt Condolences to his Family. We the "Sweet Singers of Israel", rejoice in knowing he is AT HOME with his Lord and Savior Jesus Christ. He Hit First Base (JESUS) and now he is HOME.
We leave with all of you Psalms 103:1 Praise the Lord, My Soul! All my being , praise his holy name!

In The Love of Jesus,
Deaconess Mary Lee Scott,Choir President
Rev. Daniel B. Keys, Pastor
Shiloh Missionary Baptist Church of Carlisle, Pa.
_______________

I share with you in your sorrow, for we are family.
Fred may be absent from us in the body,but he will always be present with us in THE Spirit. His works follow after and we rejoice together in that we never labor in vain in THE LORD.

Rev Evelyn Hurlock
_______________


I did not know Fred personaly but my mom and dad did he spoke at both of them funerals and his wife sung like a bird please accept my condolences

charles manuel
_______________

May the Lord give you all comfort and strength in knowing that he fought a good fight and on his way to be with our Father in Heaven.

God Bless You All.
Linda Manning
_______________

Our heart felt prayers out to the Johnson family. I have such positive memories of Rev. Johnson as he always displayed the LOVE of Christ through his smile and his kind words of wisdom that he would speak by the love of God and by the word of God.

Evangelist Lloyd Massie & Tani
_______________

Ruthie and Family
We are sorry to hear about Pastor Fred. But yet we know he is in a better place. He is with the one that he loved and served. We send our love and prayers to you and your dear family. We are away on vacation and not able to attend the services.

Evie Seiders and June Chestnut
_______________

To the Johnson Family; our hearts go out to you and our prayers go up for you. May His grace be sufficient until you meet your loved one again

Rev. Dwain and Brenda McGee
_______________

I worked with Fred at PPG. He was such a blessing to me..and later to my family as well. And who would have known that Rev Fred Johnson would a few days before my Father's surgery..lead my Dad to Christ. My Father didn't make it. But I know if not for Fred, my Dad what not be in Heaven now. Fred has touched my life in so many ways.. as many others too. At work he was always smiling and had the joy of the Lord in his heart at all times. We had lots of talks about God..and my life has been better just having Fred in it. My heart goes out to Ruth and all the family..all the Johnson's are a blessing to all who knows them..or have had the blessing of hearing them in church. God Bless

Donna Deatrick
_______________

I had the pleasure of working with Fred at PPG and will always remember that wonderful smile.I often get the opportunity to share with others concerning how the LORD thru Fred and Roger Thomas helped me come to know the LORD and thru prayer helped me stop smoking. Fred worked for me at PPG and would always witness to me concerning the LORD. In 1977 at Bible Baptist Church I accepted the LORD as LORD and Saviour and I think it was about a week or two later at PPG I was sharing with Roger and Fred my receiving Christ and shared with them the struggle I was having trying to quit smoking. There at the muti-cut at PPG Fred and Roger laid hands on me and prayed for me to the LORD to take away that desire. From that day to this day I have NEVER had a desire to smoke again. I know that Fred is now in the arms of the LORD and one day will see him again.

Wayne Jewell
_______________

Dear Ruth & Family
: We are praying for you! How wonderful it is to see the life of Christ demonstrated for all of the world to see. Truly, We perceived your beloved has been with Jesus (Acts 4:13) and has since returned from whence he has come.

With Love & Prayers, Your Cousins
Emanuel & Teralyn Bossio
_______________

With the Savior Yes you are,
We rejoise from here afar.
Soon we all shall be with Him,
Together Happy == He has Won!
The Gospel is the Power of God!

Michael P Moyer
_______________

Dear Johnson Family:
I worked with Reverend Freddie at PPG until his retirement. He had a kind soul and always had a good word for everyone. The Lord couldn't have had a better messenger on this earth to spread his word. May you find comfort in pleasant memories during your time of grief.

Dick Weller
_______________


Your message of condolence will appear here.