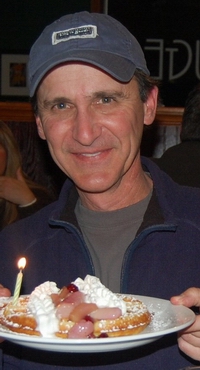 Christopher D. Thorpe, 55, of Carlisle, died at the Carlisle Regional Medical Center on Friday, June 8, 2012. Death was the result of complications related to a stroke and heart attack. Born in Carlisle on December 28, 1956, he was a proud life-long resident of Carlisle.
In admiration of the traits of his grandfather, the late William S. Eppley, a well-known local businessman, he supported many local causes designed to preserve the special qualities of Central Pennsylvania, often donating his time to work undertaken by his friends and family. Chris attended the Carlisle Public Schools through 11th grade, where he excelled in football and track, but earned his diploma at Phillips Academy (Andover, MA) in 1975 before going first to Dickinson College and then to Harvard College where he majored in Art History. After leaving college, he returned to Carlisle where he was employed for 26 years at the South Middleton Township Municipal Authority, serving most recently as Assistant Operations Manager. In May 2010, he married Judy Prescott, daughter of Doris and the late Robert Prescott. The two had known each other since their schools days, and their marriage was a time of great joy as they shared a love of kayaking and the outdoors, time at their Pine Grove cabin, traveling to historic locations in Pennsylvania, and most recently as supporters of the Barnes Foundation. Chris was a talented photographer and artist, and had a love for antiques, often working at local auctions for his long-time friend, Tammy Erb.
He was the son of Ronald D. Thorpe, now of Newville, and the late Audrey Eppley Thorpe. Besides his wife and father, he is survived by his step-mother, Deborah Thorpe, brothers; Ronald D. Thorpe, Jr. of Westport, CT, and William S. Thorpe and his partner Donna Thompson of Gettysburg, step-sister, Anne Walizer and her husband Stephen of Pittsburgh, along with his beloved niece Katherine and nephews Daniel, Christopher, and Zachary.
A Memorial Service is planned for the Ironmaster's Mansion at Pine Grove Furnace on Friday, June 22, 2012 at 4 p.m. A time of fellowship and to share memories about Chris will immediately follow the service at the Mansion. In lieu of flowers, the family requests donations to be made to the Central Pennsylvania Conservancy (http://centralpaconservancy.org) or the Furry Friends Network (http://furryfriendsnetwork.com). Ewing Brothers Funeral Home, Carlisle, is assisting the family with the arrangements.
Click here to send a condolence

My deepest, heartfelt sympathy and prayers Judy, and to all of my family, as well as Bill and Ron Thorpe and their dad for the untimely loss of a wonderful husband, brother and son. Chris was a wonderful gift to our family and will be sorely missed. May he know eternal peace in the arms of our Heavenly Father!

Lisa Prescott
_____________

Farewell my Brother. You will always be part of my best memories. I will always picture you with that great smile. To Mr. Thorpe, Ron and Bill my deepest sympathy and to Judy words can't express how deeply sorry I am. Chris was one of the truly good ones.

Jay Hertzler
______________

His love of nature, a friend to all...a(our)community is saddened by his loss.

Debi Alexander
______________

My thoughts and prayers are with all of you in this time of sorrow. Judy in the days ahead may you find some small comfort in your many happy memories with Chris, you two had something special.

Carol Brehm
_______________

My heartfelt sympathy to you, Judy, the Thorpe family, and to all Chris loved and shared time with. I'm at a loss for words but certain of God's great love for Chris! From the moment God gave Chris the breath of life, He has loved him every moment of his life. At a time when loved ones are feeling loss, God has ushered Chris into the Kingdom...taking Chris to that special place prepared especially for him...all made possible by the resurrection of Jesus, the Christ...death has no grip on our lives...Our heavenly Father restores and gives eternal life to all His children that believe. Again, I am so sorry for your loss, but place all my hope and faith in God's great love for Chris. May God comfort you during this time. Allow HIS great love for you to help you tackle the future with love, understanding and hope!! Hopefully we all will be sharing the same address in the future. The best is yet to come...for all of us!! Chris knows alot more about " better things!" than those of us that mourn his passing!! May God bless all of you and fill your hearts with loving memories of the wonderful gift Chris was to each of you.

All my best....
Doug Arbegast
_______________

May God Bless your family during this most difficult time. Who didn't like Chris. He was such a great guy and always happy. Judy words cannot describe how very sorry Dick & I are to learn of your loss. We think about you all each and every day. You two were such a perfectly compatible couple with truly same interests. We are here for you now and will be in Pine Grove for you this Summer to help support you as well.
To all of Chris's family our deapest and dearest heartfelt sympathy.

Sincerely,
Richard G. & Amy L. Baish
_______________

A beautifully written memorial for a beautiful soul. Deepest sympathy to Chris's family and to his many dear friends who loved him, and were loved by him, like family.

Kim Weeks-Quesinberry
_______________

To Judy and her family and to Mr. Thorpe, Ron, Bill and their families, you have my heart felt condolences. We have all suffered a loss that only time can assist in the healing process. I feel very fortunate to have shared so many life experiences with Chris. He will certainly be missed but I will focus on all the fond memories to help me get through this difficult time. I hope you are also able to do this. He will be with us all in spirit for the rest of our lives.
To my life long friend. Until we meet again, you will be in my heart.

Michael Busser
_______________

Blessed are those who mourn, for they shall be comforted (Matthew 5:4).
May Peace be with you during this time.

Becky Snyder DiRosa
_________________

Judy and family I am so sorry to hear of your loss of Chris .He was a special person always with a smile on his face. The last time I saw him he was bragging about you Judy and how special and smart you were. I knew then that you both had something special and I was happy for the both of you. He is and was a special person and I am glad you had the time together. He will be missed by my brother Michael and myself. I pray you get through this difficult time with God and your family and friends.

Donna Busser-GILL
_______________

So very sad to hear of your loss. Charitable and caring folks like Chris don't come around that often and he will be missed by all those that he helped. Thoughts and prayers are with the family.

Bill & Lisa Brousse
_______________

It is with great sadness that I find myself with this morning. Chris was a great guy! Pleasant and good natured always. I never remember him without that infectious smile. Rest easy Brother and Gods speed. May you be at peace.

Dan Hocker
_______________

I'm so very sorry to hear of Chris's passing. Although I haven't seen him since high school I'll always remember his great sense of humor and warm, beautiful smile. Please accept my sincere sympathies.

Deb (Adams) Yeager
_______________

I am so sorry to hear of Chris' death. We had many classes together in high school and I always remember him smiling...and looking really good in his white letter jacket!!

Shelly Sanders Teska
_______________

If it is true that "we die the way we live", we hope Chris's passion for life well-lived was true until last week. I have such fond memories of him, of Carlisle and of the sense of friendship our times together there represented. Your loss is so deep, and I hope these words from a wonderful Irish philosopher, John O'Donnohue, may help, even if just a little, as I look out upon our Pacific coast and think of you there:

BEANNACHT (which means Blessing)

On the day when the weight deadens on your shoulders and you stumble, may the clay dance to balance you.

And when your eyes freeze behind the gray window and the ghost of loss gets in to you,
may a flock of colors, indigo, red, green and azure blue come to awaken in you a meadow of delight.

When the canvas frays in the *curach of thought and a stain of ocean blackens beneath you,
may there come across the waters a path of yellow moonlight to bring you safely home.

May the nourishment of the earth be yours,
may the clarity of light be yours,
may the fluency of the ocean be yours,
may the protection of the ancestors be yours.

And so may a slow wind work these words of love around you,
an invisible cloak to mind your life.

May you all find peace and wonder in the memory of Chris, as so many of us do.

Meg
(Meg Pappas)
_______________

My deepest condolences and prayers to Judy and the entire Thorpe family.

Patti Pittenger Puliti
_______________

Chris was one of the first people to make my husband and I feel welcome when we moved to Carlisle 4.5 years ago. I cannot think of a finer representative of the town of Carlisle. We did not get to see Chris very often, but he was one of our favorite guests at our get togethers. He always brought a laid back sense of humor and heart felt well wishes. We will miss him greatly. Judy you are in our hearts and prayers.

Margo Myers and Rob Policastro
_______________

Judy and Family,
So sorry for your loss. Chris was a wonderful guy with a warm and giving heart. He will be remembered by all who knew him through the years for that.

Judi Paternoster-Treffinger
_______________

Judy:
So very sorry for your loss. Know you will be in my prayers and thoughts.
I hope you will find peace in the days ahead.

Laurel Roberts
_______________


Judy and family:
The Lord bless you and keep you, the Lord make his face shine upon you and be gracious to you, the Lord turn his face to you and give you Peace. My name is Peggy (Dripps)Apgar, friends with Maryanne. Sandy Dripps is my sister and Maryanne's friend. I was so sorry to hear of your loss. As a very recent widow, I can feel the overwhelming pain and the broken heart you are experiencing. No one can tell you now how it will be, but I promise the days will get easier and the Lord will guard your soul.

In Christian love, Peggy
(Peggy Dripps Apgar)
_______________

I'm so sorry to hear about the passing of Chris. He was a great man. My dad, my brother and I used to work with him alot in the township with my dad's business and we always looked forward to Chris showing up on the job site for inspections. He was awesome to be around. May God be with you all and you are in my prayers.

Duane Wert Jr.
______________

My thoughts and prayers are with your entire family you have my deepest sympathy. Chris was a very sweet and caring person. I will always remember that great smile from the first time I met him in 8th grade.

Chris Coyle Garland
_______________

Our prayers and thoughts are with you. God Bless.
Ken & Tammy Peck
______________

Chris, you will truly be missed! You were an amazing friend, husband, and role model!! I love you and you will always be in my heart!

Natalie Stull
_____________

I would like to extend my deepest sympathy to Judy and the entire Thorpe family. My brother John and I first met Chris in 1971 moving from N.J. to Carlisle. So for the 40+ years that I knew Chris I can proudly say I have more respect for Chris than anyone if ever known in my life. He was my older brothers friend but he always made me feel respected and included. Even over the years when I would be lucky enough to run in to him he always made me feel that way. Judy, I want you to know how happy I am that you both were able to share each other. I could see the love and happiness you both had with one another. I will miss him greatly and feel very lucky to have known him. On behalf of the Saporito family we send our deepest sympathy.

Sincerely, David Saporito
_____________

My condolences to Chris's family. He was a friend to people of many ages. He was one of my brother Mike's best friends. I will always remember the respect he showed me as a bratty little brother. He never belittled me and always allowed me to hang with the 'big kids.' As life moved on, he was still the same thoughtful individual every time we met.

Troy Busser
_______________

We are feeling a deep sorrow for your loss.
Our prayers are said for your peace and comfort.

Carl & Mary lea Shenk
_______________

Chris was a kind generous soul, always eager to lend a hand and pass on his knowledge. I fondly remember our conversations of fixer-uppers, dogs, and local history. His warm sense of humor and love of life was contagious and will remain with us always. Judy, you have our deepest condolences.

Tyler and Susannah Closs
_______________

I am so sorry to hear this. My heart is with you all.

Ann R. Johnston
_______________

Dear Judy,
You have been in my thoughts. I was so sorry to hear about Chris. I'm thinking of you in sympathy and friendship. I hope I still get to see you each Christmas Eve. Most Sincerely,

Krista Wardecker
_______________


Your message of condolence will appear here.