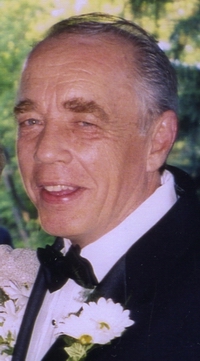 Ronald J. Sheppard, 62, of Newville, passed away on Sunday, June 3, 2012, at his home. He was born on Thursday, October 27, 1949, in New York City, a son of the late Edgar and Anne (Hancock) Sheppard and was married for 42 years to the late Caryl A. Sheppard, who died Aug. 22, 2011.
Ron was a 1967 graduate of Central Islip High School, Long Island, NY and served in the US Navy during the Vietnam War. Ron then graduated from Shippensburg University, where he earned his bachelor's degree in business administration. Ron had worked and retired from the former Scotland School for Veterans Children, where he was the business manager for many years. After retiring from Scotland, Ron worked several years with the Littlestown School District. He attended with his late wife, Our Lady of Visitation Church in Shippensburg. Ron enjoyed vegetable gardening.
He survived by two sons; Ryk Sheppard of Oakland, CA and Ryan (and his fianc
é
, Sandra Anderson) Sheppard of Newville, one daughter, Danielle (and her husband, Brandon) Palmer of Manchester, NH, two brothers; Paul Sheppard of East Patchhogue, NY and Robert Sheppard of Lewes, DE and several nieces and nephews.
A memorial service will be held at the convenience of the family at Our Lady of Visitation Church in Shippenburg. Burial will be at the convenience of the family. Ewing Brothers Funeral Home, Carlisle, is in charge of arrangements. Memorial contributions may be made to the Leukemia & Lymphoma Society-Central PA, 800 Corporate Circle, Harrisburg, PA 17110.
Click here to send a condolence

Dear Ryk, Ryan and Danielle,
Please accept our deepest sympathy, thoughts and prayers in the loss of your father. Loretta and I will keep you in all of our thoughts and prayers. We are out of town and will be unable to attend the service, nver-the-less we remember fondly the many years we served the children of SSVC with Ron. We will also remember the wonderful support of your dear mother. Ron was a dilgent and dedicated business manager and he and I share a special relationship. He will be sorely missed!

Deepest regards,
Frank Frame, Supt.retired, SSVC
(C. Frank Frame)
_______________

Dear Danielle, Ryan and Ryk,
I always saw your Father much like an eagle, watching over his children with keen eyes ..... the loving parent filled with joy and pride time and time again, as he saw each one of you soar in a different direction. God has lifted him on eagles' wings beyond all the earthly cares, but he along with your Mother will never be far from your vision. I have lost a special friend of thirty-six years, but the beauty of knowing him will be a part of me forever. Your family will be remembered in many of my Mass intentions and daily reflections ...... Always.

Phyllis Kolsun
______________

Danielle, Ryan and Ryk,
Just 10 months ago you lost your mother and now your dad. What can we say? We are so sorry for your loss; but they are together now watching over you.

Anita and Dan Brant
________________

Ryk, Ryan and Danielle,
Please accept our deepest condolences on the loss of your mother Caryl last year and now the loss of your father Ron. We were good friends when we first moved to Shippensburg. He was a student operator when I started my computer operations career at Ship. We spent some good times together. I'm sorry we lost contact over the years, but I will still have many memories of moving that heavy butcher's block around the country side and the final move to your home near Newville. God Bless you.

Dave & Linda Coover
______________

Ryan and Family,
Ryan I was saddened to find out that you lost both of your parents within a year. I know it has been a couple of years, since the passing of your parents, and I don't even know if you will ever see this condolence, but I still wanted to pay my respects to you and your family. I was thinking of you the other day, so I decided to do an internet search, and that was when I found out about the death of your parents. I just wanted to let you know, that my heart goes out to you and your family. I did not know your parents, but from what I read about them they sounded like great people. Hope your doing well, and again I'm sorry for your loss.

Jonda

_______________
Your message of condolence will appear here.