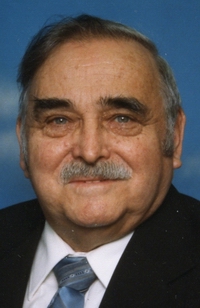 Franklin P. Menges, 81, of Newville, passed away peacefully on Sunday, June 3, 2012, in the Sarah A. Todd Memorial Home, Carlisle. He was born on Sunday, October 5, 1930, in Newville, a son of the late Clyde P. and Helen I. (Sunday) Menges,
Frank was a 1948 graduate of Newville High School and was a US Army veteran. He retired in 1992 after 27 years of service with Dickinson College, where he was a supervisor in the maintenance department. Frank was a member of the former St. James Lutheran Church, Bloserville. He was the former treasurer of the Bloserville Cemetery Assoc., a life member of the Upper Frankford Township Fire Co., a longtime member of Cumberland Star Masonic Lodge 197, Carlisle and a former member of the Dickinson College Seniors of Old Bellaire. Frank was a life- long woodworker who enjoyed carpentry and making things for people. He also enjoyed hunting, especially deer and turkey.
He is survived by his wife of 61 years, Virginia M. (Nailor) Menges, one son, Jeffery F. (and his wife, Nancy) Menges of Carlisle, one daughter, Barbara K. Menges of Waynesboro, two sisters; Miriam A. Bailey and Nancy L. Hurley, both of Newville, four grandchildren; Christopher and Dustin Eby and Joseph and Matthew Menges, one great-granddaughter, Emma Menges and several nieces and nephews. Frank was preceded in death by one sister, Helen E. Mains.
A memorial service will be held on Thursday, June 7, 2012 at 1:30 p.m. in the Ewing Brothers Funeral Home, 630 S. Hanover St., Carlisle, with Rev. Timothy Wheeler officiating. Burial will be private in the Bloserville Cemetery. A visitation will be on Thursday from 12:30 p.m. until time of the service. Memorial contributions may be made to Upper Frankford Twp. Fire Co., 4080 Enola Rd., Newville, PA 17241.
Click here to send a condolence

Our prayers and thoughts go out to all of the family. "Joel-cat" will miss Frank, as he was so much like a dad to Joel. Our thoughts are for all whom Frank has left behind. Know we are here if you need anything or just to talk.

With much love, Joel & Vikki Burgard.
Mr & Mrs Joel L Burgard
_______________

Dear Ginny: We are so sorry to hear of Frank's passing. He is now at peace. He was a wonderful neighbor and will be missed.

Beverly Miller
_______________

Our deepest sympathy to the Menges family in the loss of Frank. He was a very special person and will be missed by our community and his family. Hold tight to your memories and may God grant you love and peace in this difficult time.

Sincerely
Jay and Joyce Finkenbinder
_______________

We were sorry to learn of Frank's passing. As we think of both of you it brings back many memories from Boy Scouts and St. James Church. Please know that we are thinking of you and your family at this difficult time.

Don and Pat Fry
______________

Wishing I could be there with you today, Aunt Ginny. As you know, Uncle Frank was my favorite.

Elaine Mortensen
______________

Just received your letter which of course made us very sad. We immediately started remembering the good times we spent with Frank and there were many. The Army time spent with Frank will never be forgotten. Our thoughts and prayers are with you Ginny and your family.

Love,
Ruth and John Coutts
_______________

Dear Nancy,
This is Carole (Wolfe). Lived with you senior year of high school. My phone number is 941-565-4563. So sorry to hear about Frank's passing. Remember times on the farm. Maybe we can discuss families sometime. Hang in there and know you are thought of. God bless.

Carole Wolfe Nelson
_______________


Your message of condolence will appear here.