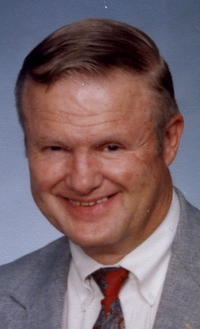 Major (Ret) John Christensen, USAR, 79, of Carlisle and formerly of Manheim, passed away on Thursday, May 17, 2012, at Carlisle Regional Medical Center with his loving family by his side. He was born on Sunday, February 5, 1933, in Dover, NH, a son of the late Ernest and Lois (Hanson) Christensen.
John graduated from Dover High School in New Hampshire and received his bachelor's degree in chemistry from the University of New Hampshire and also attended one year of medical school at the University of Vermont. He served more than 21 years with the US Army Reserve and retired with the rank of Major and was the holder of the Ranger Tab. John had worked for 33 years with the former Moore Business Forms, Inc., Lancaster and had co-owned and operated with his business partner, Michael Esworthy, Progressive Forms & Label Systems in Harrisburg, which was acquired by The Phillips Group. He was a member of St. John's Episcopal Church, Carlisle. John enjoyed and was a member of several area dance clubs, and he also enjoyed skiing.
He is survived by his loving and devoted wife of 22 years, Doris "Dee" (McHugh) Christensen, one daughter, Karen Christensen Poe of Palmyra, one son, Eric H. (and his wife, Denise) Christensen of Lititz, one brother, Robert (and his wife, Lenore) Christensen of East Bridgewater, MA, five grandchildren; Christopher Adam Poe, Evan M. Poe, Elissa N. Poe, Kadin H. Christensen and Tierza B. Christensen, two great-granddaughters, one niece and one nephew. Also surviving are his stepchildren; Susan (and her husband, Michael) Reinaman of Dillsburg, Julie (and her husband, Kirk) Reed of San Diego, CA and James Borst of Newburg, his mother-in-law, Edna Collins of Surprise, AZ and three step-grandchildren; Joseph, Jacob and Rebekah Reinaman.
Graveside services will be held at 10 a.m. on Tuesday, May 22, 2012, at Cumberland Valley Memorial Gardens, Ritner Highway, Carlisle, with military honors by Cumberland County Honor Guard. A memorial service will follow at 11 a.m. at St. John's Episcopal Church, On the Square in Carlisle, with Rev. Canon Mark A. Scheneman officiating. The family will receive friends following the service in the church parish hall for a time of fellowship. Ewing Brothers Funeral Home, Carlisle, is assisting the family with the arrangements. In lieu of flowers, the family kindly requests memorial contributions be made to the Wounded Warrior Project, 4899 Belfort Rd., Suite 300, Jacksonville, FL 32256.
Click here to send a condolence

Dee,
I am so sorry to hear of your husband's passing..Please know that my thoughts and prayers are with you and if you need anything please let me know.

Love, Bobbie
(Bobbie Garling-Myers)
_______________

So sorry for your loss, I worked with John for more than 13 years and he was a pleasure to work with and his knowlwdge and stories would always surprise me and have me laughing. He will truly be missed...

Bruce Brandt (EAGLE Graphics Inc. )
_______________

We are praying with you in this time of loss.
May God hold you in peace and love.

John and Joan Cowburn
_______________

Peace and Love be with you all.

Ken and Mary Ann Lucas
_______________

Your message of condolence will appear here.