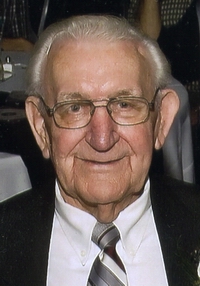 Lloyd M. Cline, 84, of Carlisle, died Saturday, April 28, 2012, at Thornwald Home, Carlisle. He was born on Tuesday, October 4, 1927, in Shippensburg, a son of the late Roy and Ada (Lautsbaugh) Cline. Lloyd was married to the late Frances (Gibbs) Cline, who died June 10, 2000.

He was a 1945 graduate of Carlisle High School and served in the Merchant Marines toward the end of WWII and then served in the US Army during the Korean War. After returning from the service, Lloyd and his brother Paul, took over and owned and operated the family businesses in Carlisle which included Cline's Appliances and Cline's Plumbing and Heating. Lloyd was a life member of V.F.W. Post 477, American Legion Post 101, both of Carlisle. He was also a member of St. John's F&AM #260 and the Carlisle Elks Lodge. Lloyd was a dedicated life member of the Tri-County Plumbers Association and held many offices in the organization throughout his many years of service. Lloyd was an honorary life member and past President of the Pennsylvania Assoc of Plumbing, Heating, Cooling Contractors. He was a member of the National Assoc of Plumbing, Heating, Cooling Contractors and was a former National Director.

He is survived by two daughters; Wanda E. (and her husband, Jim) Gehr of Carlisle and Debra M. (and her husband, Gary) Lebo of Boiling Springs, one brother, Paul Cline and one sister, Bernita Mayberry, both of Carlisle, two grandsons; Brandon Lebo and Kyle (and his wife, Kristen) Lebo and several nieces and nephews. Lloyd also leaves behind his friend and companion, Sally Greger. He was preceded in death by one brother, Harold Cline and one sister, Esther Shenk Miller.

Funeral services will be held on Wednesday, May 2, 2012, at 10:30 a.m. in the Ewing Brothers Funeral Home, 630 S. Hanover St., Carlisle, with Rev. Anna L. Thompson officiating. Burial with military honors by Cumberland County Honor Guard will be in Cumberland Valley Memorial Gardens, Carlisle. A viewing will be on Tuesday from 6 – 8 p.m. at the funeral home. Memorial contributions may be made to PHCC (Plumbing, Heating, Cooling Contractors) Educational Foundation, P.O. Box 6808, Falls Church, VA 22046 or at http://tinyurl.com/LloydClineGift.
Click here to send a condolence
Dearest Wanda,
My prayers have been with you since your call to me. I am sorry for the loss. I know he was a strong source for your family for so many, many years, safe to say your whole life! but I do know you have desired to have him be at peace, of which he now is...Condolences to Deb and the whole family...

Roxann
_______________

Dear Wanda and Jim,
Thinking of you with sincerest sympathy.
May you find comfort in the memories you hold close to your heart.

Love,
Jeff and Donna
(Donna Potter)
_______________

Dear Wanda & Deb,
I'm very sorry to hear about your father.
My thoughts are with you and your entire family.
Please know that I think of you often and I'm a phone call away if you want to talk.

Karen Shenk
_______________

Debbie and Wanda,
I was so saddened to read about your dad. I think of him often, I know the house was sold, but when I drive by I still expect to see him in the yard. Take comfort in knowing he is at peace now.

Judy Braught Zucatti
_______________

Wanda & Jim,
We hope you feel our love and support at this difficult time.

Dale & Rose
(Rose Snyder)
_______________

Dear Wanda & Deb,
Our most sincere condolence to your family.
Lloyd was a old and very dear friend of our families.

Larry Rowe & family
Judy Mosko & family
_________________

Wanda --
We send our deepest sympathy to you and your family.
God bless you.

Gail and Larry Freeland
_______________

Lloyd was a very good friend during our years at PAPHCC. He was also my Secretary when I became President. I would have attended his funeral had I been aware. My sincere condolences to a very dear friend. He will always remain in my thoughts.

Ron. Evans
_______________


Your message of condolence will appear here.