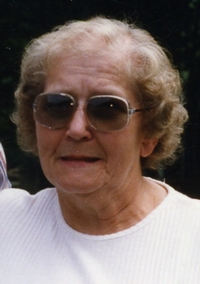 Esther Mae Hoover, 85, of Carlisle, passed away on Friday, April 13, 2012, at Community General Osteopathic Hospital, Harrisburg. She was born on Wednesday, December 15, 1926, in Cummingstown, a daughter of the late Dale F. Jones, Sr. and Pearl A. (Negley) Jones and the widow of Lee A. Hoover, Sr., who died June 2, 2006.
Esther, along with her late husband, owned and operated a dairy farm for many years in Dickinson Twp. She was a member of Wesleyan Church of The Cross in Carlisle. Esther enjoyed flower gardening and taking care of her family and home.
She is survived by three sons; Lee A. (and his wife, Linda) Hoover, Jr., Garry E. (and his wife, Patti) Hoover and Donald R. Hoover, Sr., all of Carlisle, one brother, Dale F. Jones, Jr. of Carlisle, one sister, Helen J. Carpenter of Newville, 9 grandchildren, 13 great-grandchildren and many nieces and nephews. Esther was preceded in death by one son, Robert W. Hoover, one brother, Paul R. Jones, one grandson, Johnathan Hoover and one great-granddaughter, Cassidy Myers.
Funeral services will be held on Wednesday, April 18, 2012, at 1:30 p.m. in the Wesleyan Church of The Cross, 430 "B" St., Carlisle. Rev. Daniel R. Mikesell will officiate. A viewing will be held on Tuesday from 6 - 8:00 p.m. in the Ewing Brothers Funeral Home, 630 S. Hanover St., Carlisle and at the church on Wednesday from 1 p.m. until time of the services. Memorial contributions may be made to her church.
Click here to send a condolence

Esther was a lovely Christian lady. I always enjoyed visiting with her.

Betty Lou Washburn
_____________

I am so sorry about your loss. She just recently talked with Doris Wolf about the death of my mother Vivian Jones Tibbo. She was wondering when we would be having a memorial service. I am so sad that you lost her so prematurely. God be with you all. Love and prayer,

Darlene Jones Holm
_______________


Your message of condolence will appear here.