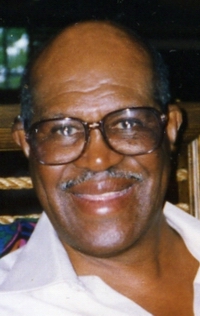 Paul Reed Hodge, 87, of Carlisle, went to be with his heavenly Father on Friday, March 30, 2012, at Holy Spirit Hospital after a lengthy illness. He passed quietly with his wife of 31 years, Viola V. (Creamer) Hodge at his side. He was born on August 24, 1924, in Carlisle, a son of the late Elmer E. and Mary C. (Spradley) Hodge.
Paul is survived by one brother, George R. Hodge and one sister, Elizabeth Goens, both of Carlisle and a host of nieces and nephews. He was preceded in death by five brothers; Elmer, Shirley, Payton, Jake and Mervin Hodge and three sisters; Mary Jane Lee, Eleanor Easter and Roberta Pacheco.
Funeral services will be held on Tuesday, April 3, 2012, at 12:00 noon in the Ewing Brothers Funeral Home, Carlisle, with Rev. Robert O. Bailey officiating. Burial will be in Cumberland Valley Memorial Gardens. A viewing will be held on Monday from 6 - 8:00 p.m. at the funeral home and where a Masonic service will take place at 7 p.m. Memorials may be made to Bethel A.M.E. Church, 127 E. Pomfret St., Carlisle.
Click here to send a condolence

I wish to express my sincere condolences to Mrs. Hodge & family of Bro Hodge. I will miss his most sincere prayers & friendship during the various Masonic meetings. He was indeed a real Christian. A man who loved & trusted the Lord for his salvation. I hope to see him bye & bye.

PM Nelson M. Polite, Sr. Lodge 14, Lancaster, Pa.
_______________

Vi and the Hodge Family
Our sincere sympathy and prayers. Paul was a good soldier. He will be truly missed. God will wipe away all tears. May God's blessing be with you.

The Petty Family
Skip , Mariann, Chad, Nichea
Mariann Petty
_______________

Cindy and I offer our heart felt condolences to the passing of our dear brother-in-Christ Paul. We enjoyed our times together with him and Viola and gave thanks to the Lord for our fellowship. He is now at home with Him and has eternal peace.

Al & Cindy Padilla
________________

My Condolences to The Family!

FAREWELL MY BROTHER!!!!!!
JOB WELL DONE!

Bro. Roosevelt McFadden Jr #14
_______________

Our prayers to the Hodge family.
Brother Hodge will forever live on in our hearts and minds.
He was truly a gift from God!

Virginia Whitaker Brooks
Worthy Matron
Silvery Moon #56, Lancaster, PA
Sister Virginia Whitaker Brooks
_______________

We will not be able to attend the funeral but we want to have a voice to say how much he will be missed in out community. He was a very special part of our church community and although he wasn't a member of West St. He was like a part of the family. Earth's loss is Heaven's gain!

Rev. and Mrs Kenneth R. Newman Sr.
_______________

Dear Vi, So sorry to hear about the passing of Paul. Will always remember him from the gym. He was always greeting everyone like they were family. May the good times give you peace.

Sincerely, Charlotte & Lew Anderson
______________

I am sad to hear of Mr. Hodge's passing. I will fondly remember his sense of humor and stylish hats. The picture with his obituary just makes me smile!

Lynn Fickes
______________

I know very few individuals who carried himself the way "Mr. Paul" did.... always smiling, cheerful, encouraging...never a harsh tone or bad word. That was "Mr. Paul". I always looked for "Mr. Paul" when I drove down North Street...just seeing his smile and wave would give me such a happy feeling. My heart goes out to his wife and family, and my prayers and thoughts remain with you.

Kathy Powless Crawford
______________

I met Paul at Gold's Gym where we both exercised. He was such a gracious, Christian gentleman; always pleasant and cheerful as he coped with declining health. God bless you as you grieve your loss. I trust that you have many good memories of this fine man.

Beverly Steinsiek
_______________


To his beloved family,
Thank you for sharing Mr. Paul's love of life and his love of God with us. He was a pillar of this community and will never be replaced.

Alverna & Kim Jones
_______________

Paul, you will be greatly missed by all who have known you, especially those of us who knew you from "the Gym." If there is a dictionary with a listing for "Christian Gentleman," there is surely a picture of you in that place. Rest in peace, Paul, knowing that so many were impressed by your always positive attitude about life and your way of making our day a little brighter by your presence. The world is a better place because you were part of it!

Don Roeder
_______________

I want to extend my sincere condolences to the Hodge family for their loss; Mr. Paul lived a purposeful life. Let us continue on with his memory not far from us.

Louis Werdebach, Woodbridge VA
_______________
My name is Janet. I'm Eleanor's daughter. So sorry to hear about Uncle Paul. Please contact me I live in CA. IM ON Facebook Janet Corum Carter. I'm a pastor in CA. Again so sorry to hear. Love you all. Would love to hear from family members more.

Janet Corum Carter
_____________

Your message of condolence will appear here.