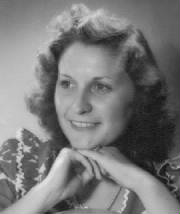 Dorothy Eloise (Lynch) Doran, 91, of Carlisle passed away peacefully on March 23, 2012, at Thornwald Home, with her youngest son at her side. She was born on December 3, 1920, in Belmont, MA, the daughter of the late Walter H. Lynch and Olive (Hirtle) Lynch Young. She was predeceased by her husband of 67 years, Leonard Granville Doran.
She is survived by children Jeff, of Nova Scotia, Canada, Christopher (and wife, Ann) of New Cumberland, Hugh (and wife, Marcia) of Olalla, WA, Lisa (and husband, Dan) of Lexington, KY, and Kirk of Carlisle; five grandchildren, Lucas of Nova Scotia, Amelia of British Columbia, Katie-Rose of Lexington, and Ryland and Noah of Olalla; and one brother, Walter Lynch (and wife, Nancy) of Raymond, NH.
Dorothy's professional achievements include being the president of the Big Flats Women's Club in Big Flats, NY, where she was instrumental in the creation of that town's first public library. After moving to Carlisle in 1973, she worked at the former Lamberton Junior High School and Mt. Holly Springs Elementary School. She was the executive secretary at the former Thornwald for Living Skills and the Stevens Mental Health Center, a position she held until her retirement in 1984. Dorothy and Leonard were members of the First United Church of Christ and were the dedicated sponsors of a newly immigrated family from Bosnia.
Dorothy will be remembered for her kindness, positive outlook, and sense of humor. She was an accomplished knitter and avid reader who loved the outdoors. Her extensive travels with Leonard throughout England, Canada, and the United States included their discovery on horseback of her father's 1916 Montana homestead cabin. Above all, Dorothy's love for her husband and family brought her great happiness and fulfillment.
The family wishes to extend their heartfelt appreciation to the entire staff of Thornwald Home for the loving care and genuine affection they provided for Dorothy over the last six years. The family suggests that memorial contributions be made to the Alzheimer's Association, P.O. Box 96011, Washington, D.C. 20090. A private memorial service will be held at a later date. Ewing Brothers Funeral Home, Carlisle, assisted the family with the arrangements.
Click here to send a condolence

My thoughts and prayers are with all of you during this time of deep loss. She was such a wonderful woman and became a second mother to me after Lisa and I were married. Dorothy and Leonard had such a close, loving marriage. Anyone who saw them together knew right away they had an unbreakable bond and strong,caring relationship. May her memory always be a blessing.

Dan Taulbee
_______________

Lisa and family: though I only know and work with Ms. Taulbee, I would like to extend my sympathy to you all in such a time. May you find comfort in memories that you shared with your loved one. My prayers are with you all as we know that the Lord is our Shepherd.

Juanita Dyer
_______________

Mr. & Mrs. Taulbee
Siento mucho la muerte de su mama, que Dios los acompane en este momento tan dificil.

Con carino Rosa Cubero.
_______________

lisa my thoughts and prayers are with you in this difficult and sad time for you and your family.

olga hoskins
_______________

Lisa we are sending up special prayers for you and your family.
GOD will be your strength. Lean on him.

Tim Davis
_______________

Lisa I am so so so sorry for your lost. I am totally understand you.
I send you a big hug and my family will be praying for you.

With Love,
Rubi Lancaster
_______________

I am so sorry for your loss.

Mary Buzard
______________

Lisa,
I was so sorry to hear about your mother's passing. I have been thinking about you a lot and pray for comfort for you. It's obvious she was a very special, amazing lady!

Janet Hupp
______________

To the children of Dorothy:
I was a young teacher at Mt. Holly Springs Elementary in 1977 when I met Dottie. I was pregnant at the time and Dottie gave me a lot of advice about motherhood. She was a wonderful friend to me. I really thought she was a thoughtful and friendly person. She and I made a connection and I always admired her. She was very proud of you all. I am sorry for your loss.

Mrs. Bernie (Lucas) Kapura
_______________

Lisa, siento mucho tu dolor. Recuerda: No has perdido un ser querido, ahora tienes un angel mas en el cielo que vela por ti y tu familia.
Cariños.

Gloria C. Arteaga-Hinton
_______________

Kirk, I'm so sorry for your loss. I had the pleasure of knowing your mom and your father, while I was working at Thornwald. The joy the two had together was amazing. I learned so much from them. I just want to thank you for sharing them with me. In my heart and prayers,

Brenda Prue Lpn
______________

Words cannot express the sorrow I feel in hearing of Dorothy's passing. Wally and I have wonderful memories of traveling around the country and Canada with them. I can picture Dot and Len holding hands walking around heaven. I am sure they are happy now that they are together again

Nancy lynch
_______________




Your message of condolence will appear here.