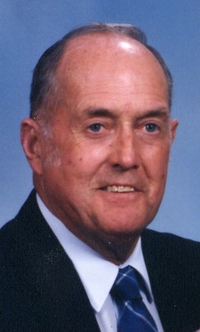 J. Dale Jardine, 79, of Carlisle, passed away on Tuesday, February 21, 2012, at his home with loving family by his side. He was born on Thursday, October 27, 1932, in Carlisle, a son of the late James Clark Jardine and Miriam G. (Trego) Jardine.
Dale owned and operated a dairy farm in West Pennsboro Township for many years. He served in the US Army during the Korean War and was a member of the Wesleyan Church of The Cross in Carlisle. Dale enjoyed hunting, fishing in Florida and the outdoors.
He is survived by his loving and devoted wife of 26 years, Caroline J. (Fisher) Jardine, two sons; Dennis J. (and his wife, Kathy) Jardine and Derek D. (and his wife, Jane) Jardine, both of Carlisle, one brother, David C. Jardine of Newville, three sisters; Janet Lindsey of Carlisle, Joyce Paes of Manassas, VA and Roberta Jones of Carlisle, two step-sons; Jimmy King, Jr. of St. Cloud, MN and Jason King of Richmond, CA, two step-daughters; Jennifer Bowman of Arlington, TX and Jan Suzanne Messina of Salt Lake City, UT, five granddaughters; Dawn, Jacqulyn, Allie, Madison and Grace Jardine, three step-grandchildren; Emily and Benjamin Messina and Jacob Bowman and several nieces and nephews. Dale was preceded in death by his first wife, Joyce C. (Hess) Jardine, who died in 1981.
Funeral services will be held on Saturday, February 25, 2012, at 10:30 a.m. in the Wesleyan Church of The Cross, 430 "B" St., Carlisle, with Rev. Daniel R. Mikesell officiating. Burial will be in Westminster Memorial Gardens, Carlisle. Viewing will be held on Friday from 6 - 8:00 p.m. at the Ewing Brothers Funeral Home, 630 S. Hanover St., Carlisle and on Saturday from 9:30 a.m. until time of services at the church. Memorial contributions may be made to the Wesleyan Church of The Cross Pioneer Club.
Click here to send a condolence

Caroline,
I am so sorry for your loss. I will keep you in my thoughts and prayers.

Barbara Mihalich Overheim
_______________

Although no words can really help to ease the loss you bear, I know that we never lose the people we love. They continue to participate in every act, thought and decision we make. Their love leaves a lasting imprint in our memories and we find comfort in knowing that our lives have been enriched by the love they have shared.

In loving memory, The Wayne Baum Family
_______________

Dear Caroline,
So sorry to read of the passing of your beloved husband.There is little comfort in words, but you are in my thoughts at this difficult time for you and yours.

Sondra (Sheffer) Ferreiro
_______________

I am very sorry to have read of your father's passing. I am sure there will be a lot of wonderful memories that will live on forevermore. May the warm hands of God touch your heart with peace and comfort during this difficult time. I will surely keep you in my prayers.

MaryAnne
________________

Our sincere sympathy to Caroline and the family.
Dale was a wonderful, talented, caring person that will be missed very much.

Bob & Joan Line
_______________

Caroline and Family,
I am so sorry for the loss of your Dale. He was the best of the best. Please know that we understand and share your grief, but we also know that any kind of suffering is better concluded quickly. Please know that our hearts and prayers are with you at this time.

Christina Bowman
_______________

God bless you all.
Don and Maxine Gillaugh
_______________

Sorry for your loss. My heart goes out to the family.
Kim Etter
______________

Kathy & Dennis
Please accept my most heartfelt sympathies for your loss...my thoughts are with you and your family during this difficult time.

Terri Bennett Boyer
_______________

Sorry to hear of Dale's passing,
You have our deepest sympathy and
you are in our prayers.
Sincerely,
John & Dot Love
Lakeland, Fl.
______________

Derek, Please accept our sincere condolences at this very sad time.
Robby Moss and your friends @ Wesco
______________

The passing of this christian friend is earth's loss and heaven's gain. Our deepest sympathy. The Clippingers

Harold & Ethel Clippinger
_______________

Our thoughts and prayers are with the Jardine family over this very tough time. Losing a loved one is very hard to accept and with prayer and time God will make the pain lessen. Please know that we are thinking of you and your family.

Richard & Donna Evans
_______________

Our hearts are saddened at the loss of such a shining beacon - of right, kindness and compassion, support, wisdom and love. Dale remains, and always will, the greatest man I have ever known. My prayers and thoughts are with my mother, his sons and their loving families and my siblings and their families who are all sharing in such a loss.

Jason and Paolo King-Andreini
______________

Your message of condolence will appear here.