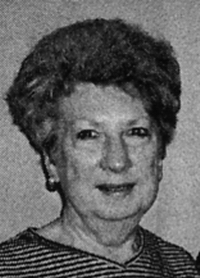 Carol R. Skelly, 72, of Carlisle, passed away Saturday, February 18, 2012, at her home. She was born on Friday, February 2, 1940, in Boiling Springs, a daughter of the late John G. and Sarah (Trump) Hipple.

Carol was a 1957 graduate of Boiling Springs High School. She was a loving homemaker and member of the Church of Christ in Carlisle. Carol enjoyed gardening and her garden was once selected "Garden of the Month" by the Carlisle Garden Club.
She is survived by her devoted and loving husband of 51 years, Irwin R. Skelly, one son, Jason R. (and his wife, Justina) Skelly of Newville, one daughter, Angela K. Skelly of Carlisle and several nieces and nephews. Carol was preceded in death by two brothers; Earl and Gerald Hipple and three sisters; Sylvia Pfarr, Janet Foster and E. Arlene Sipe.
A memorial service will be held on Wednesday, February 22, 2012, at 7:30 p.m. at the Church of Christ, 971 Walnut Bottom Rd., Carlisle. Pastor Tony Tarole will officiate. Visitation will be on Wednesday from 6:30 p.m. until time of service at the church. Burial will be private at Westminster Memorial Gardens, Carlisle. Ewing Brothers Funeral Home, Carlisle, is assisting the family with arrangements. Memorial contributions may be made in Carol's name to her church.
Click here to send a condolence


Our thoughts and prayers are with the family at this time of loss. I have good memories of our families knowing one another from the neighborhood.

Mr and Mrs Tyke Delp
_______________

My deepest sympathy to you, Dick, Angie, and Jason. What wonderful memories I have of first meeting Carol and Angie when they came to church with Penny Biecher. And, who could forget all our gatherings in your basement with Carol's famous ice tea, and cranberry bread; not to mention all our shopping sprees to the candle shops. She was a wonderful woman, and you are in my thoughts and prayers.

Janie Greeger
_______________

Richard & family,
So sorry to hear about your loss. My thoughts & prayers are with you all.

Deb (Kramer) Frysinger
_______________

My thoughts and prayers are with the family at this time of loss.

Love Eddie Miller
_______________

I will miss her smile when she visits us @ Spring Road Family Practice.
She will be greatly missed.

Missy Brownley
_______________

My prayers are with you during your time of sorrow. Be at peace in knowing Carol is with God and there will be no more pain for her. God be with you and your family.

Dee Losch
_______________

Gone is the childhood laughter we shared in school,
but the good memories of those days will linger on. RIP Carol.

Vonny C. Harrington
_______________

Angie and Dick,
My thoughts and prayers are with you and your family.

Ginny Shepard
_______________

Angie I am so sorry to hear about your mom. My prayers and conolences go out to you and your family. Mom just told me. I know she is in a much better place. And you will see her again someday. And remember you'll always have good memories of her and you.

Penny Woltz
_____________


Your message of condolence will appear here.