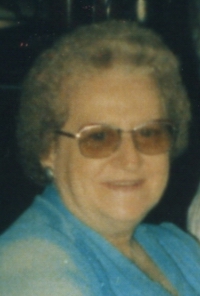 Betty C. Beamer, 86, of Carlisle, died Monday, January 23, 2012, at Harrisburg Hospital. She was born on Sunday, January 3, 1926, in Cumberland County, a daughter of the late Samuel and Irene Myers, and the widow of Richard E. Beamer, who died Nov. 17, 1987.
Betty was a cook for many years at the former Bellaire Restaurant, Carlisle and also at the Carlisle Farmers Market Restaurant. Betty was a member of the Jehovah Witnesses Kingdom Hall in Mechanicsburg.
She is survived by two daughters; Lorraine Sheller and Margaret Potteiger, both of Carlisle, two sisters; Jane Kohler of Shippensburg and Janice Myers of Newville, three grandsons; Brian and Keith Potteiger and Larry Sheller, one great-granddaughter, Kayla Sheller and several nieces and nephews. She was preceded in death by one brother, Curtis Myers and one sister, Alda Devor.
Private burial will be in Westminster Memorial Gardens, Carlisle. Ewing Brothers Funeral Home, Carlisle, is in charge of arrangements.
Click here to send a condolence

I was sorry to read that Betty has passed away. She was a very spiritual woman, so therefore I know she is in a better place. I got the priviledge of working with her when Curtis passed away. I am Esther Blettner's daughter.

Marie Boyer
_______________

I would like to express my sympathies in the loss of Betty. I am a friend who enjoyed her faith, companionship and stories of life. It was a short 3 years that I knew her but loved all the time.

Julie Kraft
_______________


Your message of condolence will appear here.