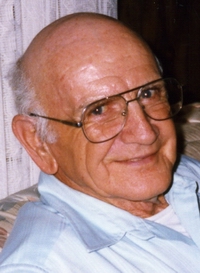 Harry F. Monismith, Sr., 91, of Carlisle, passed away on Friday, December 30, 2011, at his home. He was born on Wednesday, September 29, 1920, in Carlisle, a son of the late Harry and Lucy Jane (Cooper) Monismith, and was married to the late Aileen Z. (Miller) Monismith, who died Jan. 20, 2006.
Harry served in the US Marine Corps and was a veteran of WWII. He worked for the former Carlisle Tire & Rubber Co. for 22 years and retired from the Frog Switch & Manufacturing Co., in Carlisle after 17 years of service. Harry also worked part-time in the greenhouses for George's Flowers, Carlisle, from the age of 12 until his retirement at the age of 89. He was a member of Eagles Aerie 1299, White Circle Club and V. F. W. Post 477, all of Carlisle. Harry loved his family dearly and also enjoyed working.
He is survived by one son, Harry F. Monismith, Jr. of Carlisle, four daughters; Bonita M. Wise, Dixie L. Heister and Vickie E. Boyles, all of Carlisle and Brenda K. Kovanic of Shippensburg, five sisters; Grace Neal of Carlisle, Marie Dietz of Mechanicsburg and Shirley Miller, Sonia Hershey and Lillian Sheaffer, all of Carlisle, 10 grandchildren, 11 great-grandchildren and many nieces and nephews. Harry was preceded in death by five brothers and seven sisters.
Funeral services will be held at 10:30 a.m. on Thursday, January 5, 2012, in the Ewing Brothers Funeral Home, 630 S. Hanover St., Carlisle. Burial with military honors by Cumberland County Honor Guard will be in Cumberland Valley Memorial Gardens, Carlisle. Viewing will be on Wednesday from 6 - 8:00 p.m. at the funeral home. Memorials may be made to Furry Friends Network, P.O. Box 519, Boiling Springs, PA 17007 or to American Cancer Society, 3211 N. Front Street, Suite 100, Harrisburg, PA 17110-1342.
Click here to send a condolence


So sorry to hear of your Father's
passing. My heart goes out to you
and your family...

Dennis & Shirley Thomas
_______________

Brenda, Bob, Emma, and Anna:
My sincere sympathy for your great loss.
May God give you the peace and comfort of his love during this most painful time.

Sherri Webber-Mains
_______________


Bonnie and family,
We were saddened to hear of your loss of your father.
Our thoughts and prayers are with you during this difficult time.
May God grant you His peace and consolation.

Love, Dotty Stringfellow and family
_______________

Dear Bob, Brenda, Emma and Anna,
We are sorry to hear about the passing of your Father/Grandfather.
Please know that you are in our thoughts and prayers.

Rick, Patty, Alicia, Tyler and Lindsay
_______________

Dear Brenda, Bob, Emma & Anna.
We are so sorry for the loss of your father/grandfather.
Wishing you peace and comfort at this difficult time.
Our thoughts & prayers are with you.

Love,
Rick & Debby Hunter
_______________


Your message of condolence will appear here.