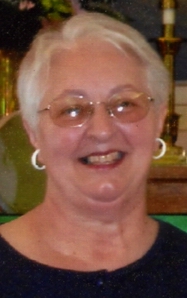 Linda M. Arnold, 63, of Gardners, passed away on Thursday, December 29, 2011, at Holy Spirit Hospital, Camp Hill. She was born on Friday, November 12, 1948, in Carlisle, a daughter of the late Donald C. and Violet (Cramer) Frey.
Linda was a 1966 graduate of Big Spring High School, Newville, and had been employed for more than 35 years with Knouse Foods, Inc. in Peach Glen, where she was currently an executive assistant. She was a member of Mt. Tabor United Methodist Church, Gardners, where she was the Treasurer, a choir member and a member of the United Methodist Women. Linda enjoyed her beloved grandchildren, traveling and was a volunteer with the Upper Adams Food Pantry.
She is survived by her loving and devoted husband of 39 years, William F. Arnold, one son, Thomas W. Arnold and his girlfriend, Felicia C. Packer of Virginia Beach, VA, one brother, Donald C. Frey, Jr. of Camp Hill, two granddaughters; Taylor L. and Emily V. Arnold and one granddaughter on the way, Sophia Arnold and several nieces and nephews.
Funeral services will be held at 10:30 a.m. on Wednesday, January 4, 2012, in the Ewing Brothers Funeral Home, 630 S. Hanover St., Carlisle, with her Pastor John M. Estes officiating. Burial will be in Mt. Holly Springs Cemetery. Viewing will be held on Tuesday from 6 - 8:00 p.m. at the funeral home. Flowers are welcome or memorial contributions may be made to her husband.
Click here to send a condolence

So sorry for your loss.

Josh and Elaine Sigman
_______________

Sorry for your loss.
If there is anything we can do, please let us know.

Leroy & Terry Jumper
_______________

Class mate of class of 1966 Big Spring High School.
Our condolence to you and your family

Robert L Inman
_______________

To a kind sole and devoted hard worker.
Miss you Much...

Todd Michael
_______________

Our thoughts and sympathy are with you in your time of loss and sorrow.
What a very nice person your wife was.

All our love,
The Glenn Frey family (Jeanette, Beverly, Lonhi)

LoLonhi
_______________

Anyone who worked with Linda knew how terrific she was. She will be sadly missed.

American Patriot Sales
________________


Your message of condolence will appear here.