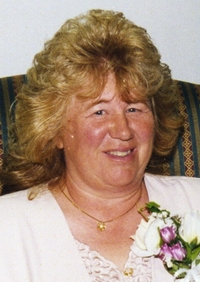 Darlene L. Myers, 65, of Hesston and formerly of Newville, passed away after a three year battle with cancer on Friday, December 23, 2011, in the Huntingdon Nursing & Rehabilitation Center. She was born on Friday, October 11, 1946, in Monroe Twp., a daughter of the late Blain L. and Dorothy R. (Dunkleberger) Wickard.
She was a 1964 graduate of Cumberland Valley High School. Darlene drove school bus for the Carlisle Area School District through the Fahrney Bus Co. for 8 years and then drove for 27 years for Big Spring School District with Deitch Buses. She also was a loving homemaker and enjoyed camping with the Dreamers Camping Club, cooking and spending time with her beloved grandchildren.
She is survived by her loving and devoted husband of more than 44 years, Roger L. Myers, one son, Gregory A. (and his wife, Lisa) Myers of Newville, one daughter, Lori J. (and her husband, Nathan) Chronister of Newville, one brother, Jay Wickard of Carlisle, two sisters; Linda Hoover and Doris Hawkins, both of Newville, five grandchildren; Adam and Lydia Myers and Gracie, Michael and Joshua Chronister and several nieces and nephews.
Funeral services will be held at 10:30 a.m. on Wednesday, December 28, 2011, in the Ewing Brothers Funeral Home, 630 S. Hanover St., Carlisle, with Rev. James Hawk officiating. Burial will be in Cumberland Valley Memorial Gardens, Carlisle. Viewing will be held on Tuesday from 6 - 8:00 p.m. at the funeral home and on Wednesday from 9:30 a.m. until time of service. Memorial contributions may be made to Asera Care Hospice, 1015 Logan Blvd., Altoona, PA 16602.
Click here to send a condolence
Our prayers and thoughts are with you at this time. remember the fun times you had with her. That will get you through the hard times of the coming days. If there is anything we can do for you please call.

Rich, Robin, Harold, Janet Walker
_______________


May God Bless your family at this time of sorrow.
Darlene was a wonderful person and always had a smile for everyone.
She will be missed.

Sonya Dyarman
_______________

Roger and family - please accept our deepest sympathy in your loss.
Don and Pat Fry
_______________

Roger and family, so sorry for your loss. Thinking of you in your time of sorrow. She will be greatly missed. Darlene was a wonderful person. Peace be with you!

Deb Morningstar
______________


Roger, you are in our thoughts and prayers during this very difficult time,
we are so sorry to hear of Darlene passing. God Bless

Charles & Debbie Heberlig
_______________

Roger
Our thoughts and prayers are with you and your family during this difficult time.

Kay & Frank Rhinehart
_______________

She was a great lady...She was my bus driver in school and i thank her so much for putting up with me...She will be missed...

Kandi Stone/Huyett
_______________


Your message of condolence will appear here.