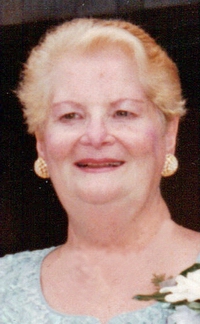 Joan A. (Garside) Morbitzer, 80, of Petersburg, VA, passed away peacefully Thursday, December 15, 2011 at Chapel Pointe Health Center in Carlisle, PA. Joan was born in Brooklyn, NY to the late John and Mary (Beasty) Garside. She married Dr. Kurt M. Morbitzer in 1957.
Joan attended St. Angela Hall Academy in Brooklyn, NY. She became an X-ray Technician and worked at St Mary's Hospital in Brooklyn, NY.
Joan is survived by two sons; Mick Morbitzer of Falls Church, VA and Tim Morbitzer of Petersburg, VA, two daughters; Marianne Bubier of Virginia Beach, VA and Kathy Block of Long Grove, IL, five grandchildren; Michelle, Joshua, Zachary, John, and Matthew, her loving sister, Ilene McElroy of Wyomissing, PA. In addition to her husband, Joan was preceded in death by one son, Chris, one daughter, Nikki, two sisters and three brothers.
A memorial service will be held at 12:00 noon on Saturday, January 7, 2012, in St Joseph's Catholic Church, 151 W. Washington St., Petersburg, VA, with the Reverend J. Biber officiating. Ewing Brothers Funeral Home, Carlisle, assisted the family with arrangements. Gifts in kind may be made to Chapel Pointe at Carlisle, 770 S. Hanover St., Carlisle, PA. 17013.
Click here to send a condolence
Joan was and is a good friend.
I will miss her laughter, smile, whit, and our conversations.
I am glad to say she was a good friend.

Michelle Shaffer - activities Chapelpointe
_______________

I met Joan when my Mother was her roommate. I live out of town but we brought my mother and sister to see her right before Thanksgiving. She was a delightful person and will be missed by my Mother, sister and myself.

Donna Clarke
_______________

Our sympathies are with your family.

Dolly Fair
_______________

I use to take care of Joan and we became great friends and she was like family to me. She would always call me Smitty her adopted grand~daughter. We were very close. She came to my wedding and would always call me to see how I was doing. My heart is sad and hurting that she is gone but she is now with out any pain. I have a angel watching over me and she is just up there shaking her head and laughing and saying that's my girl Smitty. I miss and love u Joan Morbitzer you were like a grand~mother to me.I will never forget you and all the laughs and good times we had.

Trista (Smitty) & Coleman Blocker
_______________

Joan was one of the best friends my mother ever had. They shared a room for over a year. When my mother was moved to a different room, Joan always spent afternoons with her and came to say goodnight each and every night. My mother is 94 and unable to do for herself. Joan's daily visits always kept her spirits up and Joan helped her as much as she could. Everyone who knew Joan at all has lost a real true friend. For all of us in my family she has left a place that can never be filled. We loved her and considered her family. She will be sadly missed and mourned at Chapel Pointe. Our deepest sympathy goes to her family.

NANCY S. MILLER
_______________


Your message of condolence will appear here.