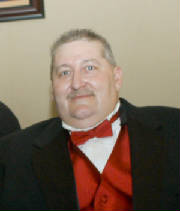 Timothy A. Harrington, 43, of Shermans Dale, passed away Monday, November 21, 2011, at his home. He was born on Thursday, April 25, 1968, in Syracuse, NY, and is a son of Arthur Harrington of Fulton, NY and Linda (Baker) Canales of Oswego, NY.
He was a 1985 graduate of Oswego High School in New York and received his master's degree in electrical engineering from the University of Florida. Tim formerly co-owned and operated Lynn Engineering in Tampa, FL and had also worked as a manager for Shoney's Restaurant and Taco Bell, as a manager of Texaco Tire and Lube and as a line cook for Applebees Restaurant. Tim enjoyed the outdoors and especially hunting.
In addition to his parents, he is survived by his wife of nine year, Barbara A. (Heffner) Harrington, two daughters; Elicia Houck of Mechanicsburg and Alexis Harrington at home, two sons; Justin McGill at home and Travis Clancy of Oswego, two sisters; Theresa Moshier and Tracy Harrington, both of Oswego, two brothers; Joe Harrington of Oswego and Chris Harrington of California, three grandchildren and nine nieces and nephews.
Memorial services will be held at 2 p.m. on Monday, November 28, 2011, in the Ewing Brothers Funeral Home, 630 S. Hanover St., Carlisle, with Pastor Tim Wheeler officiating. Burial will be private. A visitation will be on Monday from 1:30 p.m. until time of services.
Click here to send a condolence
I already miss all the smiles you have brought me over the years! Barb please know you all are in my prayers!

Betsy
_______________

TO MY BROTHER YOU WILL BE SADLY MISSED BY ME &BUDDY/DAVID BUT I KNOW YOU'RE IN GOD'S HAND AND I KNOW YOU'LL WATCH US ALL FROM THE HEAVENS ABOVE. I SURE WILL MISS MY TC. BUT HAVE MANY GREAT MEMORIES. OUR MEMORIES OF MEETING PLACE...THE KRACKLE BARREL..LOVE YOU DEARLY..KATH KIRBY/TICKLES
_______________

sorry for your loss. may tim rest in peace.

mike and jolene mandurano
_______________

R.I.P. T.C. You will be missed by so many people you touched in life.My Prayers go out to your family for peace and strength at this trying time.

Ronnie Adams
_________________

You will be missed. See you on the other side.

Chris Harrington
_______________

I am so sorry for your loss he was a good brother in our chat sessions on press box 1. We will miss him greatly...love always Jen and Tommy or bb and rdnck

Jennifer and Tommy and Steven Walker
______________

R.I.P. T.C. You will be missed by so many people you touched in life.My Prayers go out to your family for peace and strength at this trying time.

Ronnie Adams
______________

tc we have known you many yrs and you brought smiles to us all and showed concern for the friend you were. we will never forget you my friend. we love you and barb im so sorry hun sending condolences to the family. God bless.

mary mcclure aka cooney
_______________

You will be missed greatly but just know that your memories that you have made with everyone will go on forever!! My prayers go out to your family and everyone that you touched in your lifetime. I know you touched me in so many ways and always were making me laugh, you will be missed but I will be sure to see you on the other side.

Love Always, Megan
_______________

Your message of condolence will appear here.