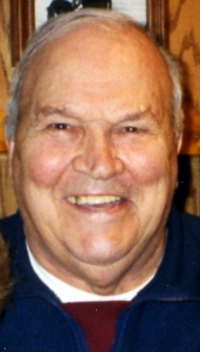 Marvin J. "Beanie" Stoner, 85, of Camp Hill, passed away Saturday, November 12, 2011, at the Homeland Center, Harrisburg. He was born on Wednesday, October 27, 1926, in Camp Hill, a son of the late Charles H. and Margaret (Morrison) Stoner. He was married for 49 years to the late Ruth (Peifer) Stoner, who died Oct. 2, 1997.
Marvin was a Camp Hill High School graduate and was a US Army veteran of WWII. After his honorable discharge from the Army, he graduated from the Stevens Trade School in Lancaster. He was the co-owner and operator for more than 40 years of Stoner Brothers Masonry Contractors, Camp Hill. Marvin formerly attended the Camp Hill Church of God and was a former member of the Dry Run American Legion Post 232, the West Shore Builders Association, the Carlisle Country Club and the Camp Hill Lions Club. Beanie was a member and former trustee of the Penn-Harrisburg Deer Camp near Horse Valley.
He is survived by two sons; Stephen J. (and his wife, Lori) Stoner of Mechanicsburg and Scott M. (and his wife, Cindy) Stoner of Enola, one daughter, Patricia A. (and her husband, John) Geiger of Mechanicsburg, three brothers; Marlin C. Stoner of Texas, Wayne M. Stoner of Mechanicsburg and Glenn B. Stoner of New Cumberland, seven grandchildren; Rebecca, Stephen II, Aaron, Sandra, Suzanne, Carly and Annie, one great-granddaughter, Ruthie and several nieces and nephews. Marvin was preceded in death by one sister, Rachel S. Kimmel.
Funeral services will be held at 2 p.m. on Thursday, November 17, 2011, in the Ewing Brothers Funeral Home, 630 S. Hanover St., Carlisle, with Rev. Richard Shover officiating. Burial will be in St. John's Cemetery, Mechanicsburg, with military honors by Cumberland County Honor Guard. Visitation will be on Thursday from 1 p.m. until time of services. Memorial contributions may be made to the Thaddeus Stevens Foundation, Athletic Department, 750 E. King St., Lancaster, PA 17602.
Click here to send a condolence
Steve & Lori,
So very sorry to hear about Beanie.
He was a good man who had a good life.
Beanie is in our prayers.

Mike & Darlene
______________

Family of Beanie....
Our sincerest condolences on the passing of Beanie.
He was a very old and dear friend to so very many of us.

Ray and Brenda Earnest
_______________

Dear Scott and family,

I'm so sorry about the death of your father. From the stories you have shared with me, he was a great father. You will be in my family's prayers and thoughts.

Susan Bianca
______________

I will greatly miss my Deer Camp Buddy. May GOD continue to bless Beanie and his Family

Tom Yingst
_______________

I'm very sorry for your loss. I hope you all are ok. You have a very strong and close family and that will get you through all things in your lives. God Bless

Coach Denny Dutt
______________

Your message of condolence will appear here.