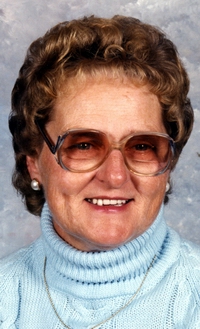 Mary G. L. Stum, 72, of Carlisle, passed away peacefully on Friday, November 4, 2011 at Carlisle Regional Medical Center. She was born on Thursday, January 5, 1939 in Carlisle, the daughter of Jane E. (Myers) Hippensteel Kohler of Shippensburg and the late Carl J. Hippensteel. She was the widow of Paul R. Stum, who died on August 18, 1997.
She was employed by the former Kinney Shoe Corporation and Ross Distribution, both of Carlisle for many years.
In addition to her mother, Mary is survived by her son, Robert J. Gardner, Jr. of NC, three brothers; Harry, Donald and Gary Hippensteel, all of Shippensburg, three sisters; Connie Kuykendall and Carol Sprecker, both of Carlisle and Joyce of Arizona, two step-sisters; Karen Wileman of Blain and Patricia Hockenberry of IN, a step-son, Daryl Stum of NC, several nieces, nephews and her companion, Paul D. McNew, Jr. of Carlisle. She was preceded in death by three brothers; Carl, Marlin and James Hippensteel, a grandson, Jeremy Gardner and a step-grandson, David Stum.
Funeral services will be held at 10 a.m. on Wednesday, November 9, 2011 in the Ewing Brothers Funeral Home, 630 S. Hanover St., Carlisle, with Rev. Paul Eddie Frye officiating. Burial will be in Cumberland Valley Memorial Gardens, Carlisle. Viewing will be held on Tuesday from 6 - 8:00 p.m. at the funeral home.
Click here to send a condolence
Our thoughts and prayers are with the family.
We loved Aunt Mary and she will be greatly missed.

Heidi & Rob, Croydon, PA
_______________

So sad about the passing of Mary she will be greatly an forever missed.
She was a great lady, sister-in-law, mother and aunt
no one could take her place.
May she rest in peace in a land of no pain.
RIP MARY!

Gary & Diane Hippensteel & family
_______________

You will be sadly missed I love you.
You are now on up in heaven with Paul and Jeremy
and you will have no more pain.
I will see you again some day.

Patricia Hockenberry & Bonnie Franklin
_______________

Rest in peace Mary.

Iva Thompson
_______________

Aunt Mary always brought a smile with her no nonsense way of putting things....
You will be missed. We love you.

Rich, Lisa and Tiffany Hippensteel
_________________


Aunt Sis No more suffering No more pain You maybe gone to a better place But you will never be forgotten We will always rember the picnics we had the times we got to spend them with You
May You Rest In Peace We Love You !!

Rick & Gwen Hippensteel & Family
______________

Please forgive me for not knowing this at the time of Mary's passing. Mary was a kind, sweet, gentle woman, who I had known for a few years. Mary treated me like a daughter, like a mother I never had. She was a wonderful cook !! She taught me many recipes. She was so kind, always willing to listen, give a hug, a gentle kiss, just being herself. I loved her dearly. She also had a son, whom I loved dearly. I think she even had a little dog. My deepest sympathy to Bob Gardner, her son. God Bless .

Rita Stoner
________________

Your message of condolence will appear here.