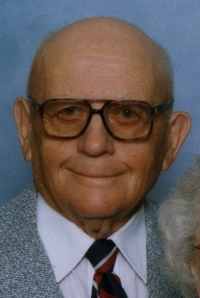 Oscar W. Hoover, 93, formerly of Newville, passed away on Saturday, October 15, 2011, at Forest Park Health Center, Carlisle He was born on Saturday, January 12, 1918, in Upper Frankford Twp., a son of the late Jacob F. Hoover, Sr. and Grace (Garlin) Hoover. He was married to the late Josephine R. (Fanus) Hoover, who died April 24, 2010.
Oscar attended the McClure's Gap Church of God in Newville and was a lifelong farmer in Upper Frankford Twp.
He is survived by one brother, Jacob F. Hoover of Carlisle, one sister, Viola F. Smith of Newville, four nephews and five nieces. He was preceded in death by one brother, Clarence Hoover and two sisters; Helen I. Miller and Pauline A. Hoover.
Funeral services will be held Thursday, October 20, 2011, at 10:30 a.m. in the Ewing Brothers Funeral Home, 630 S. Hanover St., Carlisle, with Rev. Robert Stauffer and Rev. Paul Hauk officiating. Burial will be in the Upper Frankford Brick Church Cemetery, Newville. Viewing will be at the funeral home on Wednesday from 6 - 8:00 p.m. Memorial contributions may be made to McClure's Gap Church of God Building Fund, 130 Church of God Rd., Newville, PA 17241.
Click here to send a condolence
Your message of condolence will appear here.